Part 1, Part 2, Part 3,Part 4,Part 5,Part 6
26. The Controversy of the 1887 Jubilee Exhibition Contest
While George Allan was being married, and subsequently settling in with his new wife and her family, Thomas Bulch, having moved the Bulch and Malthouse Music Warehouse on to a new location at 16 Sturt Street close to the Ballarat Star office, was continuing preparations to take his band to Adelaide for an important opportunity to prove his band at contest. The team he had established, around the band, stepped up their appeal to the people of Ballarat to enable the band to take part by funding the venture. Thomas clearly saw the contest as something he and his band simply had to be part of in order to make their name. It was a significant distance by rail, or boat, and would not be a day trip; so, both travel and accommodation would need to be paid for.
The Ballarat Star contains a bold and frank appeal on the 2nd Sept 1887. "Bulch's Model Brass Band, the premier musicians of the colony, made a special appeal to the citizens of Ballarat for assistance towards defraying their expenses in proceeding to Adelaide to join at the International Jubilee Exhibition in a band competition on the 1st of October. The competition is open to all brass and military bands in Australia, and prizes amounting to £90 are to be given. As Ballarat has reason to feel proud of Bulch's Model Band, the residents of the district will doubtless make another display of that generosity for which they are well known. All letters are to be addressed to Mr S. Jamieson, hon. secretary, Grant street, Ballarat East."
The Ballarat Star continues making the case on the 10th Sept 1887: "Ballarat, which has always been to the front, is to be represented in Adelaide at the Intercolonial Band Competition to be held in the Exhibition Building on 1st October by Bulch's Model Brass Band, who carried off second prize at the Intercolonial Band Competition held in Melbourne, and who are the present premiers of Victoria. The band is at present practising five nights weekly under the conductorship of Mr Bulch, and should be amongst the prize-takers. A benefit is to be tendered to the band on Monday next, commencing with a torchlight procession. The proceeds are in aid of defraying the expenses of the band to Adelaide."
The band succeeded in raising the funding they required and departed as scheduled. Australian band historian Jack Greaves, then, gives us an account of what happened at the contest Oct 1. Bulch's Model Band, consisting of 25 performers, took part in the Adelaide Jubilee Exhibition band contest. That contest, if not the first ever held in South Australia, must have certainly been one of the earliest, for there were aspects of the organisation thereof that left something more to be desired. Six bands competed, most with less than 20 players. Bulch's Band performed two of Thomas Bulch's own pieces, 'The Typhoon' and his arrangement of 'Gems of Weber', and were placed second in the point scoring, behind the Eastern Suburban Volunteer Band of 19 performers. The points had been allocated by the panel of three judges who were positioned in the Exhibition Building "at an elevation of at least 60 feet above the bands and distant 100 yards", according to a letter of protest written later by Tom Bulch, who claimed (and it would appear, in Jack Greaves's view, justifiably so) that from their position they could not possibly hear the finer points of the music played. His protest and those from two other competing bands were dismissed.

Not everyone agreed. The Wallaroo Times of Wed 5th Oct 1887, naturally championing their own local band, presents an alternative and not altogether concurrent perspective, giving more insight into the reason for complaints and suggesting that not all were happy with Thomas Bulch's protestations and uncompromising attitude at the time. "The Band Contest. —The great Band Contest at the Exhibition, in which the Peninsula were represented by Bartley's Military Band, came off on Saturday last. Lovers of music in this district were all anxious to see our men at the top, but in this they were disappointed. However, when it is considered that there were six bands competing, including one from Victoria, and that our band was the smallest in point of number, there is no reason for complaint, seeing that they obtained third prize. Of course musicians are not proverbially the most easily satisfied, and therefore it is no matter for surprise that protests have been entered against the awards, and that one bandmaster has vehemently condemned the Judges through the Press. However, our men have not taken any part in this but have rested content with the decision whatever their opinions may be. The grounds of the protests are (1) that the Eastern Suburban Volunteer Band played one professional, and (2) that those who were not members were allowed to play. It seems the band was entered as the Eastern Suburban Volunteer Band. Some time since, some members of the band were dismissed for not turning out on the occasion of an important parade, but although, not members of the Band, their services were retained for Saturday's contest. The prizes competed for were—First, £30 and silver-plated C comet, valued £16, presented by Messrs Besson and Co., per Messrs J. Broad & Co.; second, £15 and silver-plated B cornet, valued £12, presented by Messrs Besson & Co., per Messrs J. Broad & Co.; third, £5 and tenor horn (Besson's), presented by Messrs J. Broad and Co. The following six bands were entered:- Southern Suburban Volunteer, under Bandmaster C. Hodder ; Eastern Suburban Y.F., Bandmaster, A. Heath ; Moonta, Bandmaster W. Bartley; S.A. Police, Bandmaster B. Howlett; Locomotive, Bandmaster T. Youlton; Bulch's Model Band, Ballarat, Bandmaster T. E. Bulch. The prizes were awarded in the following order—Eastern Suburban Volunteer Band, 1; Bulch's Model Band (Ballarat), 2 ; Moonta Band, 3."
The same publication goes on to say elsewhere in a summarisation of the day's news "The Ballarat bandmaster does not take his 'gruel' kindly."
Clearly Thomas had been confident in his own ability and that of his band, and had felt slighted by the judges decision. I gather that this is one aspect of the brass band movement that may well be a familiar sentiment for many bands even today; though today's brass contests are generally held under exacting and well defined and well practiced conditions today. In the times we're describing here there were still varied views on appropriate arrangements. Nonetheless Bulch's Model Band had come a worthy second and returned to their home city with their prize and within days were playing a selection of music, for the people there, that would include relatively new compositions by Bulch. 4 Oct 1887: "ROTUNDA CONCERT. Bulch's Model Band from Ballarat, which obtained second prize in the brass band contest, gave a concert at the Rotunda on Monday evening. There was a large attendance. An attractive programme was presented, including the two contest pieces, the first, "Gems from Weber' arranged by the bandmaster (Mr. T. E. Bulch), and the other, a march, 'The Typhoon,' also by the bandmaster. Each of the items was well received and applause throughout was liberally bestowed. The following numbers were also given :— Overture, 'Knight Templar' (H. Round); strand march, 'The Giant' (T. E. Bulch); trombone soIo, 'Death of Nelson' (Braham): polka (tongueing), ' The Gumsucker' (T. E. Bulch) ; quartet, 'An Evening Prayer' (H. Round) ; valses, 'Mountain and Glen' (H. Round)."
By December of 1887 Bulch and Malthouse had opened a second branch of their Music Warehouse on the High Street in Maryborough. John Malthouse had moved there to run that store, leaving Thomas and Eliza to run the Sturt Street branch. It was a natural progression for the business and opened up new possibilities away from Ballarat. By this time they were advertising both addresses in the Avoca Mail: "Pianos, Organs, Music. – Messrs Bulch & Malthouse want the public to know that they have in stock Pianos by the most noted makers, also the Estey Organs, which are unapproachable in every essential quality. Can be had on easy terms, or lowest prices for cash. Concertinas from 5s' each, accordions from 10s, violins from 10s. A large and splendid stock to select from. Sheet and book music in great variety. Note the Address —BULCH & MALTHOUSE, Music Warehouses, HIGH STREET. – MARYBOROUGH, and 16 Sturt Street, Ballarat."
On the 21st Dec 1887, with Christmas, and Thomas's birthday before New Year's Eve, approaching the Launceston Star and Sydney Daily Telegraph both advise of Thomas's next planned contest. Both newspapers stated "The band contest to be held in Sydney in January next promises to be a great success, and will undoubtedly be one of the most interesting features of the celebration week. Entries for competition close on the 20th inst., but already a number of bands have entered, among them being the Garrison Band, Hobart; St. Joseph's Band, Launceston ; South Australia Militia Band; Eastern Suburban Volunteer Band, Adelaide; Albury Town Band; Mudgee Town Band, and and the Band of the N.S.W. Naval Brigade. Other bands have notified their intention of entering, including the City Band, Launceston, and Bulch's Model Band, Ballarat, both said to be very good bands. The promoters of the contest are doing everything they possibly can to perfect arrangements and make the 'gathering of the bands' worthy of the week celebrations."
27. Interlude – The Rise and Rise of Brass Journals
If you know brass music you'll have spotted in the section above the pieces that Bulch's band played, entitled 'An Evening Prayer' and 'Mountain and Glen', both of which were works by Henry Round. In 1881, Henry, seeing the success of other brass band music journals, decided to start his own brass band journal in Britain.
There's not a great deal known about the beginnings of Wright and Round as music publishers. Henry Round was reputedly a band teacher who, prior to the company's formation, hand-wrote and lithographed parts he had composed and arranged, in order to meet demand. The other founder, Thomas Hargrave Wright was the co-founder but had retired from the business well before his passing in 1914 aged 79. The music publishing company was based in Liverpool, and produced the Liverpool Brass (& Military) Band Journal as well as the Brass Band News which also started in 1881. They were considered to be the leading publishers of brass band music in the last quarter of the 19th century. They catered for bands at all levels barring pieces that might only be performed by the very best. This most probably for commercial reasons in that should pieces prove too challenging then the buyer may be deterred from buying again. It was considered that they played a great part in stimulating the growth of the brass band movement.
Wright and Round's published pieces at least covered the period from 1875 onwards. As well as music for brass bands they published a journal of 'drum and fife' music. It is believed that arrangements published by Wright and Round were generally arranged by one, or the other, of the founders. Wright and Round themselves were the biggest contributors to their publications, but overall 140 or so composers were to contribute to their published music catalogue. It is suspected that some of the composers listed among the Wright and Round published works may well be pseudonyms for Wright and Round themselves. We'll look into the idea of pseudonyms at a later point, however, one of the publishers that would definitely be published by Wright and Round was George Allan. The strength of sales of their journal ensured a wide distribution of band performing the pieces they enjoyed from the journals. Some would prove more popular than others. Some would hardly be played at all. However, it was generally the case that a composer might stand more chance of seeing their piece performed through its appearance in a journal, than through attempting to sell the pieces individually. The dominance of Wright and Round in Britain, and later Hawkes and Son, which became Boosey and Hawkes, made it difficult for the lesser journals in Britain to achieve consistent sales. Boosey's own brass journal, which he had established in 1852 was still continuing into the eighteen-eighties. Eventually, though, other journals including that of T. A Haigh of Hull, the Amateur Brass and Military Band Journal, in which he had first published both Thomas Edward Bulch and George Allan, would also soon be overshadowed. The same would be true for so many of the older journals that George Allan and Thomas Bulch may have been exposed to throughout their formative years; Distin's, Chappell's and Robert De Lacy's London Brass Band Journal among them.
Wright and Round's journal was also exported to Australia, explaining in part perhaps how so many of the popular British pieces of the day were also usually featured in the programmes of Australian bands. Their inclusion in brass band journals of the day would certainly be how many of George Allan's compositions would find themselves being played in Australia.
Thomas, like Robert De Lacy before him, had realised that brass band journals were the perfect way to ensure a continued purchase of one's compositions. In 1887 he decided to take a leap of faith and commence publication of his own brass band journal, and that he would call it the Australasian Brass and Military Band Journal. He was surely confident that he would be able to compose or arrange from the works of others, all the pieces that would be needed to ensure regular publication; band journals were usually published monthly. The Ballarat Star of the 24th October 1887 tells of the birth of this venture. "It will be interesting to the musical public of Ballarat to know that at a recent competition, at which the leading brass bands in England took part, and which was won by the Honley Brass Band, the test piece which was played by all the competing bands was the contest march "Chef d'Oeuvre," by Mr T. E. Bulch, of Ballarat, which reflects considerable credit upon that gentleman's abilities as a composer, and which has been classed by the publisher (T. A. Haigh, of Hull) as a masterpiece. Mr Bulch, instead of forwarding his productions to England for publication, has arranged with a Ballarat firm to print all the music here, and he is now editing a journal which is styled "The Australasian Brass and Military Band Journal," which has already found its way into the adjoining colonies as well as having a large Victorian circulation. We wish Mr Bulch every success in his new venture."
We can't be sure which contest was being referred to here. A check of contest results for the Honley band in that period reveals that the contests in 1887 were either own choice test piece or a different named test piece. However, worth noting that Honley competed in a march contest at the Shildon Show in August of 1886 at which the march test piece is not named but which could well have been 'Chef D'Oeuvre'. If that were the case Thomas would almost certainly have heard about it from his family or former bandmates.
Initially, Bulch and Malthouse advertised their journal in Britain as well as Australia. An advertisement for the Australasia Brass and Military Band Journal appeared in Wright and Round's Brass Band News towards the end of 1887 seeking subscribers in Britain. An annual subscription would be required to be paid in advance and would cost 24 shillings for the brass band edition, 28 shillings for the military band edition and extra parts could be obtained for an added annual rate of 1 shilling and sixpence. Postage to the United Kingdom was extra at 4 shillings. The subscribers list for the year ahead, 1888, included Bulch's "The Elephant", "The Gumsucker", "Soldier's Pride", "Good Shot" and "The Giant" among works by others which included an arrangement of "Fair Maid of Perth" by Glaswegian composer Carl Volti.
The journal mentioned would later evolve, by title, to become the Intercolonial Brass Band Journal. Looking ahead slightly on our story, in an issue of the Wagga Wagga Express of January 1892, minutes from the meeting of the Wagga Town Band include a resolution that the band will continue to subscribe to Wright and Round's Liverpool brass journal, but also, of direct interest to our story, Bulch's Intercolonial Brass Band Journal.
28. Eighteen eighty eight.

The year 1888 commenced with another wedding in the Allan family. This time it was to be George's older brother William, who was marrying Mary Ann Metcalf on the 17th January. Their father John James Allan, the master tailor of Shildon, is one of the recorded witnesses. William had initially followed his father into tailoring, but in life seemed to be one of those people who felt unable to settle in a job but could turn his hand to most things. During his lifetime he spent time, after tailoring, as a plumber, and electrician at the railway works, and a fish frier.
The following month George's uncle, Ralph Allan, died. Ralph had followed John James to New Shildon from North Yorkshire to set up a life there. After he passed away, his widow moved away to Crook.
Despite temporarily being away from New Shildon and the rest of his family for the time he was living with his wife's parents, George managed to keep the New Shildon Saxhorn Band going, and, rather like the New Shildon Temperance Band, though they do not appear to have been a contesting band for a few years there were engagements to be had. The Daily Gazette for Middlesbrough reported that while the local Tory clubs were 'holding high holiday' at Windlestone Park, on the 25th August 1888, the New Shildon Saxhorn Band was on the previous Saturday assisting in the celebration of the first anniversary of the Shildon Liberal Club. "The proceedings, which were jointly under the auspices of the Liberal Club and Shildon Branch of the National League, began with a procession through the streets. The sturdy Liberals and Nationalists of the place assembled at the Liberal Club and, headed by the New Shildon Saxhorn Band, paraded the principal streets of both Shildons. The demonstration was followed by a public tea, at which over 1,000 people partook of the good things provided." A meeting was later convened at which the then Tory government of the time was condemned in the strongest terms.
The prime minister of the day was the Marquess of Salisbury, who had been elected in 1886, and there would not be another general election until 1892. The 1884 Representation of the People Act had extended the right to vote to men with land or property rental, or land, exceeding £10 in value; but this still excluded 40% of men and all women from taking part. In addition, during most of the Victorian era, the two sides sparring for political control of the nation were barely separable in terms of policy and regard for the working man such as might be found in New Shildon. Nonetheless, Members of Parliament still required votes, more so since the 1884 Act, so the parties were active in establishing clubs and holding rallying events, at which there would always be room for rousing music.
At the other side of the world there was a busy year ahead for Thomas Bulch and his Bulch's Model Brass Band. On 14th January 1888, the Ballarat Star tells of the band running through pieces at a concert ahead of the contest in Sydney that the band had been preparing for since late the previous year. "The promenade concert given in the Eastern Oval last night by Bulch's Model Band was well attended, and the music was much enjoyed. A long and varied programme was gone through, and among the pieces played were those which are to be produced at the Centennial Demonstration to be held in Sydney shortly. Prior to the concert the fire brigades, Ballarat City, Soldiers Hill, and Ballarat East Fife and Drum Bands, and the Railway and Soldiers Hill Brass Bauds joined in torchlight procession to the grounds. A platform stage was here erected for the band, and gas jets opposite the stand and ladies' reserve gave the Oval a brilliant appearance. On the conclusion of each number Mr Bulch and his musicians were loudly applauded. A charge of 6d was made for admission to the grounds, and the amount taken at the gates was £15, and this, together with the proceeds of the sale of tickets outside, will after paying expenses give a profit of about £20. The band will leave for Sydney shortly."
On 23rd January 1888, the Star reports on the band's plans. "Bulch's Model Band, who have entered for the Sydney Centennial competitions, leave Ballarat by the 7.10 p.m. train this evening for Melbourne, en-route to New South Wales. The contests will commence on Wednesday. At 6.30 this evening the Model Band will muster in front of the Star office, and will next march up Sturt street and along Lydiard street to the Western railway station. To-night the band will remain in Melbourne, starting for Sydney by express at 6.40 on Tuesday, arriving at their destination early on Wednesday morning. A representative of the band left Ballarat for Sydney on Saturday, for the purpose of securing accommodation for the musicians in the capital of the sister colony. The following members of the band have entered for solo competitions: —Cornets —J. Carah, R. Malthouse; euphoniums—A. Ferguson, V. Lorimer. Appended are the names of the Model bandsmen who are to represent Ballarat at the competitions:—T. Malthouse, soprano cornet, E flat; J. Scott, solo, do, B flat; J. Curah, do; R. Malthouse, do; A. Briant, repiano, do; P. Reiflel, 2nd cornet, do; J. Clark, do; F. Hoare, 3rd, do; J. Collier, do: J. Malthouse, solo tenor, E flat; J. Shepherd, 1st do; W. Holt, 2nd do; S. Jamieson, 1st horn, do; 11. Lockett, 2nd do; H. Knipe, 3rd do; J. Thom, 1st baritone, B fiat; C. Grove, 2nd do; T. Haymes, 1st tenor trombone, b flat; A. Hutson, 2nd do; A. Ferguson, solo euphonium, do; J. Tolliday, bass, do; V. Lorimer, bombardon, E flat; E. Jewell, do; P. McNamara, do; W. Middleton, side drum; R. Butland, bass drum; Geo. Bree, drum major; T. E. Bulch, bandmaster. It is probable the results of the contests will not be known until the end of the week."
The Grand Centennial Band Contest was held at the Carrington Grounds, Sydney, where Bulch's Model Band again took second place. On that occasion they were beaten by the 4th Regiment Band from Newcastle conducted by William Barkel, which, as I am informed by Ballarat based Australian band historian Robert Pattie, was considered to be one of the finest bands in Australia at that time, with an imposing record of successes. The previous victors from Bulch's last contest at Adelaide, the Eastern Suburban Band, was placed fourth, 17 points behind Bulch's Model Band, and 15 less than the third prize winner, Launceston City, Tasmania. Thomas could have been forgiven for relishing that change in fortunes. In later years Thomas would compose the march "Newcastle" as a tribute to William Barkel, whom he clearly held in high esteem.
Thomas's stock in banding circles was increasing; on occasion sufficiently so that others might want their associations with him known. In the Illawara Mercury of Wollagong on 4 Feb 1888 he is quite blatantly 'name-dropped' by another former Shildon bandsman making a new life for himself in the colony: "Mr Bulch, leader of Bulch's Model Band, which gained second prize at the contest in Sydney, was first comet player in a band at Childern (sic.), England, when Mr H. Collings, now a resident of Wollongong, was conductor." Precisely what Mr Collings was hoping to achieve through this is unclear. Perhaps he was hoping to claim some credit for, or a part in, Thomas's success. There are no documented references of H. Collings conducting either of the New Shildon bands, but it may still have been the case.
Though Thomas would often have to use the appearances of the band as an opportunity to raise funds to keep the band operating and be able to travel to attend contests, as well as ensuring a small fee for his services as bandmaster, he was also happy to take engagements for the band at events that would benefit other worthy causes.
In December 1887 his band had been one of five bands marching with the area's fire brigades as part of the procession to the Eastern Oval as part of the fourth annual charity service of the Old Colonists Association of Ballarat. Now, in March of 1888, after their most recent contest success, the band would take part in another benefit event. "HUMFFRAY BENEFIT CONCERN AND WELSH PIC-NIC. A grand Pic-nic of Welshmen and friends in the Botanical Gardens is announced for Friday, 2nd March. In the evening the above concert will be held in the Academy of Music, the use of which has been kindly granted by .Sir W. J. Clarice, … A good programme has been framed. Mr Philip Jones is musical director, and all available local vocal and instrumental talent will assist. The promoters now claim public support on this occasion on behalf of an old resident, a former Parliamentary representative, and one of the Pioneers of Ballarat. It is hoped that this will be a bona fide benefit, not one in name only. The indefatigable secretary, Mr.). J. Williams, and his aides are working hard to secure success. Bulch's band and the popular Welsh harpist, Mr Llewellyn Thomas, will perform. Tickets are to be had at the booksellers and music shops, Sutton's and Harrison's."
The event was afterwards reviewed thus: "For the first time for several years St. David's Day has been allowed to pass without the holding of the usual Welsh national festival. The memory of the annual Eisteddfod was, however, revived last evening, the occasion being a benefit concert tendered to Mr J. B. Humffray by some of our most popular amateur vocalists, assisted by the Barak Dramatic Company, the whole being under the direction of Mr Phillip Jones. Many of the items in the programme were selected from the national melodies dear to the Cymru, giving to the entertainment a sufficiently Welsh character to render it an acceptable substitute for the usual Eisteddfod celebration. Each of the two parts of a well-selected programme was opened with a performance by Bulch's Model Band, given with the precision, perfect balance of tone, and excellent effect for which the band has earned for itself a high reputation. "
Wednesday 7th March 1888 saw the first annual meeting of Bulch's Band, which in absolute transparency was reported through the press – "BULCH'S MODEL BAND. The first annual meeting of the band was held in the bandroom, Sturt street, Wednesday evening, Mr Bulch, bandmaster in the chair. Correspondence.—From the Ballarat City Fire Brigade, asking the band if they would in future act as the brigade band.—Request granted. A new set of rules drawn up by the committee were considered, and, after slight alterations, were adopted. The secretary read the balance-sheet for the past year. The band was formed on 10th January, I887, and were thus nearly 14 months from their formation, but owing to the band attending; the Sydney Band competition held on 26th January they were unable to hold their meeting: at the proper time. The receipts for the year amounted to £405 and expenditure to £440 6s 3d, leaving a debit balance of £35 6s 3d. The following: items are included in the expenditure:—Uniforms, £79 6s; instruments, £66 17s; bandmaster and music, £47 12s. The band has won three second prizes during the year, amounting to £110 5s, viz., second in Melbourne, 26th February, 1887; second in Adelaide, 1st October, 1887; and second in Sydney, 26th January, 1888. They have also received £75 5s from paid engagements. The band has also assisted in the cause of charity, having on several occasions given their services gratis, and in April last gave a promenade concert on the Eastern Oval in aid of the sufferers by the late Bulli disaster, the net proceeds handed to the fund amounting to £41 10s 6d. The committee begged to congratulate the members upon the success of the band in the past and hoped they would excel their previous performances in the future; the total strength of the band at present was 28 members, and it is intended to increase that number to 35, as it is intended to hold a contest on a larger scale than any yet held about Christmas I888, either in Melbourne or Sydney, when the New Zealand bands will be present. The winners of the first and second prizes in the Sydney contest were pure brass bands, i.e., had no reed instruments, and both were supplied with a complete set of instruments from the same maker, viz., F. Besson and Cos., of London. The following offices were balloted for, and duly elected:—President, Mr John Robson, J.P.; vice-presidents, Hons. D. Ham and H Gore, M's.L.C., Messrs A. Kortlang, and U. T. Hager; bandmaster, Mr T. E. Bulch (re-elected); assistant bandmaster, Mr J. Scott; secretary and band sergeant, Mr S. Jamieson (re-elected); treasurer, Mr G. Bree; corporal, Mr J. Thom; committee. Messrs J. Carah, T. Malthouse, J. Thom, C. Grove, J. Tolliday, J. Scott, E. Jewell, R. Butland. Messrs J. Coliver and Butland were elected librarians for the ending quarter. The following were elected patrons of the band: Hon. Phillip Russell, M.L.C., Hon. Colonel Smith, M.L.A., J. Russell, M.L.A., E. Murphy, M.L.A., C. E. Jones, M.L.A., Messrs W. Bentley, and I. Jonas. The offer of a new bandroom by Mr Abrahams, tobacconist, Sturt street, was accepted, and a special vote of thanks was passed to him for the generous offer. It was decided to hold a sale of gifts in about three months, proceeds to be devoted to the reduction of the debt and purchase of new instruments. A strong committee was formed to carry out the scheme. Votes of thanks to the retiring officers for their past services, and to the chairman, and the meeting closed."
From this report, you get a sense of the ambition Thomas had to prove that his band could be the best not only in the town, or the state, but possibly the colony. The Australian band scene was growing and Thomas wanted his band to grow with it.
In 1888, Thomas's wife Eliza gave him another child; a boy. The couple decided to follow a Bulch family tradition in giving his first-born son his own first name, and that of his father before him. His middle name too was to be shared with his own father, and that of his great Uncle, who had been Thomas's bandmaster. Thus he was named Thomas Edward Bulch Jr.
On the 2nd April 1888, the band were engaged to head a procession, yet again to the Ballarat Eastern Oval; this time as part of the Ballarat Public Library Sports. It was a relatively quiet event with fine weather the previous day having tempted people away to the suburbs.
As the weather cooled in Australia, back in County Durham spring turned to summer, and in that summer Elizabeth Allan gave birth to a daughter for George, when they named Lillie. It is thought that she was born while George and Elizabeth were living with her parents at William Street, Coundon Grange. The young couple had Lillie baptised at St Andrew's Church in Bishop Auckland on the 5th December 1888.
29. Fire!
Old Father Time led the Victorian world on into the year 1889, which for George Allan was not an especially significant year, excepting that it is around this time that he made his return to New Shildon, bringing his wife and their infant daughter with him. The Allans had obtained a home that would become an iconic address in the George Allan story; number 2 Pears Terrace. This was only a short distance from the Chapel Street, where George was born, Adelaide Street and Redworth Road where he had grown up, the Mechanics Institute on Station Street and importantly the railway wagon works where George was employed. At that time the house was also then on the very edge of New Shildon looking eastwards along the railway track that ran parallel to Station Street. The hiss, puff and whistle of locomotives and the rumble of wagons that George played his part in manufacturing and repairing would be part of the daily background soundscape for the Allan family. From their front window, George and Elizabeth would have had a view of a countryside landscape that over time would include a view of the growing New Shildon Colliery pit at what is now, as then, known as Dabble Duck. This old pit, dating back to at least the early 1870s, had a fluctuating staff but seems to have been a relatively small one until the mid-twentieth century. It was in the ownership of Messrs. George Pears and partners which without any doubt, given the fact that the houses overlooked his property, accounts for how the street came to be named Pears Terrace. A short walk over the track by footbridge close to the rear of the property there were shops, the school at which George received his education, and at which now his own children may now attend, and the Mechanics Institute with all it had to offer. 2 Pears Terrace was to remain the family home for the rest of the couple's married life.
At this time George did not seem to be making significant progress as a composer but was managing to keep the New Shildon Saxhorn Band going. The Northern Echo tells us how on the 11th of May 1889 the band had provided music at a mass meeting of miners – the largest that had been held in the Auckland district – at the ball alley in Old Shildon. The lodges of New Shildon, Adelaide, Auckland Park and St Helen's Collieries were represented, and street processions with handsome lodge banners took place amid the eclat (meaning brilliant display or effect) given by performances of the New Shildon Saxhorn Band.
There is a suggestion that the new Shildon Saxhorn Band may have competed at a band contest featuring six bands at the Auckland Cricket and Football Club Gala, but there are conflicting reports that it was a Coundon band, so perhaps a journalistic error. In any case whichever band was unplaced in the top three. Otherwise, the Shildon bands were absent from the notable contests of the area. Even the band contest at the Shildon Horticultural Show on 11th August, described by the Northern Echo as "in its way the leviathan of the North" saw neither of the town's two bands enter.
July of 1889 did see the New Shildon Saxhorn Band host their sports event, most likely a fundraiser to keep the band going. It happened on Saturday 27th July, having had to be twice postponed on account of poor weather. the event, which featured various types of race and games also included a football competition that was competed for by four football clubs and eventually won by the Shildon's owns football club for which they carried off a cup valued at £1 2s and 6d. According to the reports the committee considered the attendance to have been encouraging and they were satisfied with the results.
In Ballarat, the year was to be another significant one for Thomas Bulch. They would start the year in the summer heat on the trail of contest success yet again. The Ballarat Star of 31 Dec 1888 reported that the members of Bulch's Model Band were to meet that afternoon at the Western Railway Station, to proceed to Maryborough by the 3.30 train to take part in the band contest to be held in the new Town Hall, commencing at 7 o'clock. "The prizes are as follows: 1st prize, £3O and silver mounted baton, value £5 5s; 2nd prize, £5. The winning band will be required to play at the Highland Societies' Gathering, on New Year's Day. The following are the players in Bulch's band:—R. Malthouse, solo cornet Bb; J. Thom, solo cornet Bb; J. Murphy, repiano cornet Bb; F. Hoare, 2nd cornet Bb; B. Porter, 3rd cornet Bb; J. Collier, 3rd cornet Bb; J. Malthouse, solo tenor Eb; F. Reeve, 2nd tenor Eb; S. Jamieson, 1st horn Eb; H. Knipe, 2nd horn Eb; J. Malthouse, 1st tenor trombone Bb; D. Cameron, 2nd tenor trombone Bb; W. Holt, 1st baritone Bb; V. Lorimer, solo euphonium Bb; J. J. Tolliday, bass euphonium Bb; M. Spear, bass Eb; P. McNamara, bass Eb; D. Bromly, bass Eb; J. Gooding, bass drum; G. Bree, drum major; T. E. Bulch, bandmaster."
Maryborough, of course was where Bulch and Malthouse had their second branch of their Music Warehouse business, and where John Malthouse, still playing solo tenor horn in Thomas's band, was living.
The Ballarat Star on New Year's Day 1889 provided a breakdown of the outcome. "BAND CONTEST AT MARYBOROUGH. Our local correspondent last night wired: " The band contest in connection with the Highland Society's demonstration, to be held at the Prince's Park to-morrow, took place in the Town Hall to-night. The first prize was, £3O, and a silver-mounted baton; second prize, £5. The bands competing were Bulch's Model Band (Ballarat), and Bowenvale and Avoca bands. The programme consisted of a selection, march, and waltz, for each of which the judges allowed a maximum of 15 points, or a total of 45 points. The results were as follows:— Bulch's Band, 43 points, 1; Bowenvale Band, 35 points, 2; Avoca Band, 12 points, 3."
Though it was less prestigious in terms of the number of competing bands, and perhaps also the calibre, this was a very decisive result of which Thomas must have been proud. His band were adjudges to have been only two points short of a perfect score of 45 points. The Argus of Melbourne explained that the band had, according to the judges, lost one point on account of expression and another one for harmony in the march piece.
On 14th March Bulch's Model Band were back entertaining the people of Ballarat. "The moonlight concert given on theEastern Oval last night by Bulch's Model Band was well attended. Prior to the opening of the entertainment a number of rockets were sent skyward, while at intervals in the performance crackers, Catherine wheels, and squibs were exploded. As usual Bulch's band played their programme in excellent style, and the audience were not slow in showing their appreciation of the ability displayed by the musicians. The pavilion was brilliantly illuminated with coloured lights, and the whole appearance of the grounds was very pleasing The takings at the gates amounted to £12." This sounded like quite a spectacular event, ingenious, and far from the impression one might have of a stiff and 'proper' Victorian occasion.
Less than a fortnight after this fantastic concert took place, disaster was to be visited upon Thomas Bulch and his family.
This incident was widely reported, but as always, and particularly on this occasion with only being based a few doors away, it is the Ballarat Star that contained the most detailed account. "A conflagration that might have proved a most disastrous one broke out last night shortly before 5 o'clock in the block of wooden buildings in Sturt street, situated between Lyons and Raglan streets. The fire was first noticed by a young man named W. Mortimer, an employe at Messrs Harry Davies and Co's establishment, who was passing at the time, and caught sight of a glare through the window of Mr T E Bulch's music warehouse. He at once gave the alarm at the City Fire Brigade station, which fortunately happens to be not more than about 100 yards from the scene of the fire. The brigadiers turned out smartly, and at once went to work on the burning buildings. The doors were broken open, and a stream of water put on in the interior, Another hose was taken on to the roof, but the pressure proved to be so weak that for a while there was only a trickle from the branch. This occurred at a most critical period of the fire, and had there been any wind blowing the whole block of buildings must have been consumed. The water came at last, however, and by dint of judicious work the firemen succeeded in confining the flames to three of the shops. The Ballarat Brigade were quickly on the scene, and also had a stream of water playing on the flames. Two of the shops burnt belonged to Mrs Reardon, one of them being untenanted, while the other shop was occupied by Mr T. E Bulch, music seller. The third shop was owned and occupied by Mrs Saunders, a dealer in millinery, haberdashery &c. These shops were completely gutted, and the whole of their contents destroyed. The adjoining shops were those occupied by Mr Thompson, jeweller, and Mr Jolly, bookseller, and those were almost untouched by the flames. A crowd of several thousand persons assembled in Sturt street during the fire. A number of youths endeavoured at one period to burst in the door of Mr Thompson's jewellery establishment, but were prevented by Sergeant Charles. We understand that the building owned by Mrs Saunders was insured in the Liverpool, London, and Globe Company for £l5O, but the stock was uninsured. Mrs Reardon's property was not covered by insurance. Mr Bulch, who is at present absent from Ballarat, had an insurance of £450 over his stock. It is not known whether the fire originated in Mr Bulch's shop or in the unoccupied premises next door. The brigadiers of both West and East deserve the greatest credit for their efforts, which resulted in the saving of perhaps thousands of pounds worth of property. It may be mentioned, as a peculiar circumstance, the unoccupied shop was but recently tenanted by Mr Thompson, who removed two doors nearer Lyons street, and thus just escaped the fire."
It is difficult to express just how devastating an impact this fire would have on Thomas's business aspirations. Yes, it's true that the report states that his stock was covered by an insurance policy; but, as Eric Tomkins points out in his family history of T E Bulch, as a composer many of his manuscripts and private papers would have been destroyed in the fire. It would not be so simple as to re-stock the store from suppliers. His own compositions were often engraved and printed in Leipzig, Germany meaning that to replace them he would have to send an order to the printers and await their replacement.
What had caused the fire that day. Was it mishap, or mischief? As the report attests Thomas himself was absent from Ballarat at the time, presumably the business was being managed by Eliza in his absence. Though there is no indication in the reports of any mischief or vindictiveness, and fires are a common hazard, one does wonder whether there might be more to the situation than a simple accidental fire. The minutes from the monthly meeting of the Ballarat Fire Brigade from the following month show that there were ten other fires they had to content with that month and a small number of false alarms.
It must be remembered that the business was not solely in Thomas's name; and that his business partner, and long standing friend, John Malthouse, who managed the Maryborough branch of the business would also be impacted by the incident. Eric tells us that after the Sturt Street fire Thomas managed to obtain some space in a sport store over the street from the burned out shop; from which to sell what wares he had, but the business was then in his own name only. There was something about the incident and the fire that appears to have caused a falling out between these two old banding comrades. Whether John Malthouse considered Thomas to be in any way responsible, perhaps through his absence at the time of the fire; or whether John felt that Thomas asked for support in a way that he could not support, we'll probably never know.
We shall also probably never understand the extent of the falling out between the two, however there are suggestions in the following year that perhaps the argument was not terminal for the friendship. We'll return to the evidence on that in a moment, but for now we cross the globe back to New Shildon
30. Allan vs. Jameson: a New Shildon Court Case
Easter of 1890 saw Thomas Edward Bulch return to the contesting scene at New Shildon; in spirit if not physically. On the 16th April 1890 the Ballarat Star reports that "At the New Shildon Band Contest, which took place in England on Easter Monday, the test piece was a march "Chef D'Oeuvre," composed by Mr. T E Bulch of Ballarat." This is quite remarkable in that the news article was printed not long after Easter so the word must have travelled fast, or T E Bulch must have known well in advance. It's unlikely that anyone other than Thomas would have provided the Star with this snippet of information. He must have been somewhat pleased that his legacy as a composer continued to have relevance in the town of his birth, though one can't help but wonder what significance this might hold to the citizens of Ballarat. The Northern Echo of 9th April 1890 states that the band contest was held on the Easter Monday, the 7th April at a field near Shildon Lodge Colliery, hosted by Thomas's old band, the New Shildon Temperance Brass Band; however that article states that the test piece was "Nil Desperandum" by Harry Round. There was, however, an additional Quickstep element to the contest for which the test piece may well have been Bulch's piece. The bands competing that day were; Whitworth, Spennymoor Temperance, Anfield Plain, Hartlepool NER, Hartlepool Operatic, Cockerton and Stockton Model. The Whitworth band took the main prize, with Spennymoor Temperance picking up the prize for the quickstep. Though again neither of the Shildon bands competed the New Shildon Saxhorn Band played dance music later. This is slightly odd given that the hosting organisers of the contest were the town's Temperance band, but perhaps it is simply a reflection that there existed a lasting camaraderie between the two bands and having the Saxhorn band play afforded the Temperance band the opportunity to relax and enjoy the occasion. There was some controversy at the contest event, the Hartlepool Operatic band having been disqualified at some point. Rumours were circulated that the Hartlepool NER Servants Band may have raised objections, but in the Hartlepool Northern Daily Mail of 9th April 1890 the secretary of the operatic band denied any accusations publicly.
Throughout the lives of Thomas Bulch and George Allan it is quite clear that in terms of newspaper coverage of the two men there is perhaps twenty times or more as much about Thomas Bulch and his deeds and achievements that can be found about George Allan. For Thomas Edward Bulch, in order to achieve his goals and aspirations, this was a necessity. By this I mean that to gain a reputation and respect as one of the leading figures in banding in Australia, Thomas clearly had an appreciation that people needed to be aware of who you were and what you achieved step by step. He was immodest in the most professional way. We have learned so far that things didn't always work out; but we have also seen through the language used to describe his deeds up to this point he was successful in nurturing an appreciation for the work he and his band undertook.
For George Allan, who had felt bound to maintain a 'regular occupation' by which he might provide for his wife and family, the limelight was something he appears to have shied away from. Perhaps he felt it unnecessary, or that having a reputation for his banding achievements (most of which are to come later) may even have made it harder to fit in with his family and workmates in a rough and largely ungenteel working community. It is possible too that it may not even have been of his own choosing, and simply a reflection that the journalists of the North East of England saw less value in the cultural contribution of the brass band movement than their Australian counterparts who throughout this period showed much enthusiasm in the growing cultural aspects of their society. In documenting the lives of both men, though, this disparity whilst revealing a lot about the personality and character of Thomas Bulch, generally does little to help understand Allan in equivalent depth.
There is one incident in 1890 though that does reveal a little more of the nature of George Allan, and it arises not through his musical achievements, but through a brush with the justice system.
On the 15th August 1890 the Durham County Advertiser reported on a court case involving the, then 26 year old, George Allan. "James Jameson brought an action against George Allan, both of Shildon, for the value of a gable end or dwelling house, valued at £14 18s. Mr Leyburn appeared for the plaintiff, who is a railway inspector and who owns property. It was alleged that the defendant lives in his own property, adjoining some property owned by plaintiff, and there was some land adjoining this property. Defendant commenced to build on this property and in doing so commenced to make holes into the gable end of the plaintiff's property, which was the matter in dispute. Defendant has asked if there would be any objections to him building on this property, and received an answer that there would be no objections providing that he committed no injury, but on its being built it was discovered that defendant had drove into the gable end. James Francis Adamson, a builder and licensed valuer, living at Shildon, proved to the erection of the gable end spoken to by plaintiff. His Honour gave judgement for £9, and asked the defendant how he could pay it, and he replied that he could not pay it as he was only a Blacksmith's Striker, and had but 19s per week. It was mentioned that the defendant was the teacher of a band, and on being asked what he received for his services as a band teacher he replied that he had 2s 6d per night, but that he said went for refreshments. His Honour: Then instead of having refreshments , you had better pay the amount into court until the debt is paid. – An order was then made that he pay 10s per month until the whole amount is paid, with costs."
The Northern Echo of 13th August 1890 presents a slightly different angle on the court case "House building at Shildon. Joint ownership of a gable wall. Yesterday, at Auckland County Court, James Jamison, railway inspector, sued George Allan for £14 18s, for use and support of a gable wall at Shildon. The case was that the defendant had built a house whose joists rested on plaintiff's gable wall, extending also to the garden, which defendant, on his side, had painted. – Thomas Reed, the builder was called. He said he built the house and sold it to Jamison. Witness had bargained with plaintiff for use of gable wall on his own behalf, but finding the walls below standard measurement of the Local Board bye-laws, he could not be a party to a wrong act and he did not pay. (Loud laughter.) He admitted asking plaintiff's permission to use the gable, and had promised to see plaintiff paid. Defendant now swore that his agreement with Reed was for a complete house. The Judge found for £9. – Messrs J & R D Proud (par Mr Labron) were for plaintiff; Mr J T Proud defended."
This tells us a few things about Allan. The 19 shillings a week he earned in 1890 would equate to earning around £99 in 2018, so he would not be wealthy by today's standard, but few ordinary working people were in those days. That said, his additional earnings as a bandmaster gave an opportunity to boost that. We know what he could earn per evening teaching the band, but not how many evenings he spent doing that. We know also from this report that he was able to employ humour when placed in a tight spot, and that unlike Thomas Bulch his way was not that of the temperance pledge; assuming that by refreshments he was referring to the wares of the ale house and not implying that his two shillings and sixpence were spent on many many cups of tea. This might explain why George remained with Francis Dinsdale and the Saxhorn Band when the New Shildon bandsmen broke into two distinct camps.
Later that year, at the end of August, we hear that the Saxhorn Band were again entertaining the Liberals of Shildon. The Northern Echo reports on the 1st September 1890 of a "Great Meeting at Shildon. Speeches by Mr A E Pease and Mr Paulton M.P. The anniversary of the Shildon and District Liberal Club took place on Saturday. The Shildon Saxhorn Band, bandmaster George Allan, played spirited selections through the town, and a public tea, largely attended, was held in the P. M. Schoolroom, followed by a meeting which failed the capacious building."
In January 1890, Bulch's Model Band acquired a significant and prestigious patron. "The secretary of Bulch's Model Brass Band has received the following communication from his Excellency the Governor:—."Government House, Melbourne, 27 January, I890—Sir, l am directed by his Excellency the Earl of Hopetoun to request you to he good enough to inform the members of Bulch's Model Brass Baud that he has much pleasure in according his patronage to the band.—l am, yours faithfully, E. W. Wallington, Private Secretary. S. Jamieson, Hon. Sec."In March they also secured patronage of the City of Ballarat Fire Brigade.
On 7th March Bulch's Band were party to another spectacle at the Eastern Oval in Ballarat. "FRIDAY EVENING. HERR SCHOOT, CHAMPION DRUMMER OF THE WORLD, Who performs on 20 Drums, Descriptive of the SIEGE of PARIS. For ONE NIGHT only. Bulch's Model Band will play a first-class programme." The drum piece was to be representative of Germany's entry into Paris after a significant bombardment of the city. Herr Schoot would also perform his drummed "grand imitation of a railway train" and the band's programme would include "Queen of Beauty", "Battle of Eureka", and "Opossum Hunt" by Thomas Bulch as well as "Bonnie Jeannie Gray" by one Godfrey Parker whom we shall return to in a moment.
On the 28th March "The annual meeting of the baud was held last night; Mr Mitchell in the chair. Correspondence from secretary Eight Hours'Anniversary, asking the services of the band in the procession; request granted. The secretary reported the total number of members to be 25, and that it was intended to increase this number; also that the band were compelled to call for tenders for a new set of uniforms, which had been accepted, and which would cost the members about £70. It was unanimously resolved to have a bazaar and art union, in aid of the uniforms, about the 24th May, and that donations and articles be solicited from the public. A strong committee was formed to carry out the arrangements. The band has secured the patronage of his Excellency the Governor, the Earl of Hopetoun, in consideration of their previous performances. It was reported that the band was the premier band of Victoria; that they bad attended the United Fire Brigades Demonstration at Sandhurst on 12th March, accompany the City Fire Brigade. The following officers were balloted for and duly elected for the ensuing year:—President, Mr John Robson, re-elected; vice-presidents, Messrs J. Kirton, M.L.A., T. Curnow, Captain Leggo (re-elected), J. Roff, Mayor Little, J. Dunn, M.L.A.; bandmaster, T. E. Bulch; assistant bandmaster, Mr V. Lorimer; secretary, Mr S. Jamieson, re-elected; treasurer, Mr W.Apps; sergeant, Mr J. Thom; corporal, Mr T. Malthouse; drum-major, Mr G. Bree; committee, Messrs M. Spear, J. Hodge, J.J. Dixon, G. Malthouse, J. Murphy, P.McNamara. A vote of thanks to the chairman closed the proceedings." It's pleasing to see that Thomas and George Malthouse continued to support Thomas in the running of the band. The Eight Hours procession mentioned took place on 21st April whereat the band appeared in full parade uniform. There were numerous band in attendance accompanying various unions and groups of workers with their banners in colourful celebratory display.
The band were engaged for a far sadder occasion on the 4th of May as part of a funeral procession for Ballarat fireman Arthur Reece who was an Engine Officer at the Ballarat Fire Brigade and had passed away aged only 31 years. Later that month on Friday 23rd May the band were again engaged, this time to provide music during a planting of trees in the Victoria Park, a project that had been progressed by Mayor Little whom you will recognise from the report of Bulch's Band's annual meeting above as being a vice-president of the band. 1500 invitations to plant trees were issued to citizens and 1250 accepted those invitations to plan trees on the 300 acres reserved. Throughout this Bulch's Model Band performed music. As well as trees planted on behalf of the numerous ratepayers of the city, clumps of different varieties of tree were planted on behalf of a great many organisational bodies of the city. The occasion was referred to as Arbour Day. The last tree was planted by quarter past twelve, whereupon the band ended the proceedings by playing the National Anthem, which in those days, to the probable disapproval of Australians now, would have been the national anthem of Great Britain.
In May, Thomas Bulch, his wife, and one of their children, made a trip to Tasmania. They boarded the SS Flinders from Melbourne on the 26th May bound for Launceston. Also aboard the ship, presumably travelling with the Bulch family, was John Malthouse. This is the first sign in this year that the falling out over the Sturt Street music warehouse may not have entirely ended the friendship between the two old Shildonians. The stay in Tasmania was brief and the party made the return voyage to Melbourne on the 29th. It is though that this was Thomas's first journey to Tasmania. There are no clues to be had in the press as to the reason for the trip.
1890 sees interest in Bulch's Model Band start to reach a peak. August saw a torchlight procession to benefit one Mr Dunstan followed by another to benefit the Soldiers Hill Fire Brigade's ground fund. September saw a perfomance in the Rotunda on Sturt Street, November saw the band make an appearance at the Ballarat Horticultural Society Spring Show and at the Ballarat Holy Ghost College Sports at the Ballarat Oval. Though it was in December that we see the best evidence that any falling out between Thomas Bulch and John Malthouse had been set aside. The Mount Alexander Mail of 10th Dec 1880 reads, "The brass band contest to be held at Maryborough next week promises to be a great success, some of the best bands in the colony having entered the contest. Mr T. E. Bulch, of Ballarat, will act as judge."
This represents the first case we have seen wherein Thomas Edward Bulch has graduated from the role of bandmaster/conductor at a contest to that of judge. It would be an opportunity for him to demonstrate to the banding community of Victoria how he believed a band contest should be judged. And this opportunity was afforded him by none other than his long standing friend John Malthouse; the contest being held under the auspices of Malthouse's Model Band of Maryborough. The Bendigo Advertiser of 18th Dec 1890 describes that "The town (of Maryborough) was in full holiday attire yesterday. In the morning a special train conveyed some three hundred passengers to Ballarat. Later in the day an excursion party numbering about five hundred arrived in Maryborough and were hospitably entertained by Mayor Field. A band contest also took place in Princes Park. The Eaglehawk, Donald, Bowenvale and Thompson's Castlemaine Foundry band taking part. There was a large gathering in the park and after a very close contest, the judge, Mt Bulch of Ballarat, awarded Bowenvale first prize, Castlemaine second and Eaglehawk third. Mr Malthouse, of Ballarat, took first prize for a cornet solo."; that being Robert Malthouse, John's brother also from Shildon.
1890 was also the year in which Thomas and Eliza had another daughter, whom they named Myrtle May Bulch. Bulch's band ended the year by playing a selection of music on New Year's Eve on Sturt Street from 11pm until the City Bellringers rang in the New Year at midnight to the anticipation of all present at the possibilities that would unfold in the year ahead.
31. Godfrey Parker; and Other Names We Should Know
During 1890 the name of a new composer of brass music began to emerge in Australia; that of Godfrey Parker. The first brass march mentioned by this person was "Bonnie Jeannie Gray"; but this was closely followed in 1891 by a march called "Craigielee". These pieces were first performed in Australia by none other than Bulch's Model Band; and there is very good reason for this. Godfrey Parker wasn't a person in their own right at all, but a composing pseudonym for Thomas Edward Bulch.
Why Thomas chose this year to do this is elusive. Eric Tomkins, who as explained before is the grandson of Thomas Bulch, explained to us that his grandfather was worried that he composed so many pieces that people would be tired of seeing his name; and so he used others to dilute the possibility of 'Bulch fatigue'. Yet, it seems still quite early in his composing career to have made this change. Other composers of the era elected to produce music under a pseudonym because they found that music connected with a more exotic surname enhanced the volume of sales; and having discovered that they tended to produce all of their music under that pseudonym thereafter. Thomas's behaviour was slightly different in that he appeared to adopt differing personalities for his composers; yet throughout continued to additionally compose under his own name. Perhaps another reason is that if Thomas were stocking all the sheet music in his own shop, having his own name as composer on so many pieces might be perceived in the same way that a supermarket's own branded products are, and that some buyers trusted names that they didn't know.
The question "why Godfrey Parker?" is also an interesting one. It's certainly no more exotic than Thomas Edward Bulch, so unlikely to have been chosen to generate some kind of mystique. One 'part theory' I have in relation to this is that the name 'Godfrey' might well have been a reference to the exceptionally well known and regarded British composer, conductor, Coldstream Guards bandmaster and adjudicator Charles Godfrey who had judged Thomas's New Shildon Temperance Band and awarded second prize to the band both times at the first two contests in which Thomas tasted success back in England. Perhaps, Thomas thought that anyone seeing the name might make some semi connection that might influence their purchase. I have to be the first to admit however that the choice may have nothing whatsoever to do with it. Speculation is all we have.
Thomas was an arranger as much as a composer, and we see evidence in the same period of his having arranged works by other composers that he may initially have been exposed to through the fact that their original works were for piano and violin, which he also played. Again that these works in brass band format seem to appear in Australia first of all as being played by Bulch's Model Band and thereafter appear in the repertoire of other bands supporting the belief that though different names were being seen, the arrangements were the work of Bulch. Unfortunately, over time, and probably for very good reasons, some of these names have been misconstrued as being full pseudonyms of Thomas Edward Bulch rather than being what they truly are which is other composers, often contemporaries, whose work he most probably arranged. Key examples in point are Carl Volti, actually a pseudonym for Archibald Milligan, an eccentric Glaswegian violinist and champion of traditional Scottish music, who achieved great renown in years predating Bulch; Charles Le Thierre, a pseudonym for a London based brilliant piccolo player and former military bandsman who wound up a drunkard and destitute in the workhouses; and Theo Bonheur, a pseudonym for Arthur Charles Rawlings a prolific London based piano composer, the son of a blind piano tuner. These three names became interwoven with the Thomas Bulch legend to the point where they were misconstrued as being other alternative identities for the man himself; though it would be fair to say that in most cases, particularly in Australia, it was Thomas Bulch who enabled audiences at brass concerts to enjoy their works and melodies through the full and rich polyphony of a brass arrangement. All were published widely enough for Thomas Bulch to have been exposed to their work even before he came to Australia, and it's quite likely that he even sold their piano arrangements in his shop. In later years Thomas's own piano compositions would be compiled in books of sheet music alongside these composers, a factor which has perhaps simply added to the confusion over identities.
With Godfrey Parker it's very different in that this truly was, to the best of our knowledge Thomas Bulch; and he used other names besides this, some of which we know about, and others we will probably never know. Among the ones we know are Eugene Lacosta, Pat Cooney and Henri Laski; but Godfrey Parker is among the first. The compositions under Godfrey Parker are predominantly for pianoforte, but Thomas would render those he considered best for brass band also, or create a variety of configurations of instrumentation at various prices to maximise sales. Thomas was after all a business man as well as a musician.
A clue, explained to us by Eric Tomkins, to Godfrey Parker and Henri Laski originating within Thomas Bulch himself is that some of the waltzes he created for piano were named based upon wordplay involving the names of members of Bulch's own family. For example the piece "Adelina" by Parker was a dedication to Thomas's daughter Adeline Bulch, and Laski's "Myrine" a combination of Myrtle May's name and Adeline's. Other examples of combined named used to produce a title include "Noralla" by Bulch himself and "Elsinore" by Bulch as Henri Laski.
We'll come back later to one particular Godfrey Parker composition, "Craigielee", but that's in the future. Right now we need to see what the year 1891 had in store.
1891 was a census year, and so a chance to determine the whereabouts of those Shildonians relevant to our story.
George Allan, and his wife Elizabeth, along with their daughter Lillie, and another daughter Beatrice born earlier that year, were now well and truly set up in their little house at Pears Terrace. By this time he had a few more published brass compositions under his belt including marches "Olicana", named after a roman fort at Ilkley in Yorkshire; and "Binchester", similarly named after the Roman site near Bishop Auckland, near Shildon. There was also by this time a quadrille named "Florence", a march entitled "Forward", one called "Mechanic", and another entitled "Lonsdale" named for the valley that the river Lune flows through in Cumbria and Lancashire. Most of the works for which he would come to be best known were still ahead of him; yet we can see that the stability and occasional tranquility of a home of his own and for his family gave George greater opportunity to be productive with his music.
Not far away, on Adelaide Street, at number 65, George's parents John and Hannah continued to keep house, though with fewer of their offspring now at home there. George's brothers James, Ralph and Edwin still with their parents as was sister Ada. James was by now old enough to work as a labourer, but the rest were still scholars.
On the other side of the street, and a few doors down, at number 40 Adelaide Street, Thomas's father, now a widower, kept the house going with his continuing wage as timekeeper of the railway wagon works. His daughter Margaret stayed with him, acting as his housekeeper now that his wife was no longer alive. Son, Christopher, by then eighteen years of age, also resided there though by now he too was employed at the railway works as an engine fitter. Younger children Ada and Frederick continued their schooling.
Jerry Bulch, Thomas's brother, had by this time married and left the family home to live at 6 Auckland Terrace with his wife Emily (née Thompson), daughter Minnie at the home of Emily's mother, a widowed draper's assistant. One name that is now absent from Adelaide Street is that of Dinsdale, the remaining sons and daughters of Francis Dinsdale having moved elsewhere.
In banding terms life in New Shildon appears to have been quiet, with no significant events being reported in the press during that year. The year had begun with a particularly hard winter, but even once that had passed banding events in the town barely receive a mention. Even the organisers of the annual Shildon Horticultural Show had decided not to hold a band contest, and instead engaged the band of the Queen's Own Cameron Highlanders and the Whitworth Brass Band to simply provide straightforward concert performances. It appeared as though the brass instruments of New Shildon were shelved and temporarily losing their shine.
Some of Thomas Bulch's compositions were being imported back to Britain and being sold, and we're told that his family back in County Durham acted as his agents there. Around 1891 Thomas had composed the march "Second To None" which was published in Britain as well as Australia and shows, alongside Thomas's Australian address, that his agent in England was T Bulch, Gurney Street, Darlington. It had long been assumed that his father, Thomas senior, had been his agent, though we know that in this period his father remained resident in New Shildon. However, the census of 1891 reveals that Thomas's younger brother John Bulch, whilst working as a steam engine fitter at the Darlington locomotive works, is lodging with a family by the name of Taylor. This leaves an element of mystery as to why the name of 'T Bulch' is given as agent and not 'J Bulch', unless this is being used as a correspondence address and the mail was being passed to Thomas senior only a short distance away by train. In any case, we know that for a time at least Thomas Edward Bulch's family were helping him to maintain a British market for the music that he produced and printed in Australia.
32. Thomas Bulch Leaves Ballarat for Melbourne
1891 appears to have started as busily as the previous year ended for Thomas Bulch in Ballarat. On 26th January Bulch's Model Band provided music at the Australian Natives Association 'Foundation Day' event to mark the date on which the first ship landed at Sydney Cape to found a colony there. On this occasion, though, Thomas Edward Bulch was not present with the band. Instead he had travelled to Bathurst in New South Wales to fulfil an engagement there as a contest judge. The city of Bathurst, whose brass band had been founded by Thomas's good friend, and former New Shildonian, Samuel Lewins, was to celebrate Anniversary Day with a Grand Brass Band Contest on the Show Grounds there. Sam Lewins was one of the principal organisers of the event; doubtless a factor in securing Thomas's involvement. The organising committee had secured prizes to the value of £100 which as well as cash sums included a Besson Desideratum prototype cornet, e flat tenor horn and a conductor's baton. The test pieces were a grand selection from Weber, arranged by Bulch, 'Kyrie & Gloria' from Mozart's Twelfth March, and a new contest march composition also by Bulch himself entitled, appropriately, "Bathurst".
Those familiar with brass band contesting in England sometimes look at Bulch's contest marches and wonder where the musical complexity, that usually occurs in a British contest march, is; being more familiar with a tradition wherein a contest march is designed to test the musical dexterity of all sections of a band. That would be to neglect to understand the differences between contesting in Britain and the way the scene developed in Australia where a march contest actually required the bands to physically march whilst playing. Furthermore, the marching would be marked as well as the playing of the piece. On this occasion, though Thomas would award points for the quality of the playing of the piece, it would be one Warrant Officer Toovey awarding the points for quality of marching.
The following full account was printed in the Bathurst Free Press and Mining Journal; "The members of the District Band deserve the highest praise for their efforts in organising a day's amusement and pleasure for the people such as never before was experienced in Bathurst. The Secretary Mr. Appleby, worked with untiring zeal, and he was ably assisted by the committee who stood by their principal throughout. The committee undertook a great responsibility by incurring the risk of upwards £200 to be spent in prizes, &c. It is gratifying that the public have proved that they can appreciate an effort of this kind made for the advancement of the town. The bands arrived on Saturday, and most of them gave a proof of their skill on wind instruments by marching through the principal streets. Yesterday morning crowds assembled at an early hour near the Royal Hotel to witness the start for the Show Ground where the contest was to take place. The bands marched off at intervals of a few moments after each other and were loudly applauded as they passed through the line of appreciative onlookers. Arrived at the ground the men took up their positions on a raised platform and the competition commenced. The committee had acted with great wisdom in securing the services of Mr. Bulch, of Ballarat, as judge. Mr. Bulch has made this class of music his special study for many years, and has composed and arranged pieces which are played by every band in the colony. He was not acquainted with (any) one of the bands, and to show the appreciation in which his selection was held, members of each of the competing bands complimented Messrs. Appleby and Lewins on their choice, and said they would be perfectly satisfied with the decision whatever it was. Thus assured, the committee felt, at the commencement of the contest that they were going to have a pleasant and enjoyable affair, but subsequent events proved that though some of the bandsmen might be good on the instruments, they were bad losers. Entries were received from the following bands : —Wagga Town Band, Wollongong Town Band, Lithgow Independent Band, Lithgow Imperial Band, Newtown Band, 3rd Regiment, V. I. Band, Merewether Brass Band, Naval Artillery V. Band. These put in an appearance with the exception of the Wagga Wagga and the Naval Artillery. The different bands drew for positions and played in the following order : — 3rd Regiment, Newtown, Lithgow Imperial, Lithgow Independent, Wollongong, and Merewether (Newcastle). A special room had been erected for the judge at a convenient position to the stand. The room was closed in so the judge had no opportunity of seeing the different bands nor of knowing in 'what order they were competing. The 'first piece was a selection arranged by Mr. Bulch from Weber's operas Der Frieschutz, Oberon, and Euranthyie. This being accomplished the quick march 'Bathurst ' composed by the judge, was played, the marching being judged by Warrant-officer Toovey. The next part was the rendering of the 'Bathurst 'March and ?' Kyrie and Gloria' fromMozart s Twelfth March, by the six bands. The performance of these pieces was greatly appreciated, and the public loudly applauded. The judge had a difficult task before him in making his awards, and asserts that never before has he known of a number of bands playing so well as these. In Victoria there are three which are equal to the six which took part, but he gives the palm to New South Wales for quality and excellence of execution. Green's Band, from Lithgow, has only been under command for ten months, and yet their performances are spoken highly of. Those competent to judge consider that some of contestants have, in practice, paid too much attention to the more difficult movements, while the simpler passages were detached. The Wollongong had, however, not overlooked the simpler movements, and accordingly carried off the laurels, the Merewether Band coming in for second place. For the third position the 3rd Regiment and Newtown had scored an equal number of marks, and each was called back, the former gaining in the second attempt, secured the prize. The decision of the judge was received with cheers, and evidently met with the approval of the crowd as well as the performers, as no word of dissent was uttered by the latter. About 6 o'clock the vast concourse of people (upwards of 2000) made their way homewards." Where the article had previously referred to 'bad losers' this reference was to a continuation of the article that recounted the events of a separate 'Cornet Contest' that took place on the evening following the band contest.
On 1st Feb Bulch's Model Band teamed up with the Sebastopol Band to provide music at a grand church parade for the Manchester Unity Independent Order of Oddfellows as part of their benefit event for the Orphan Asylum.
On the 9th March the band mustered at the fire station yet again; this time to join parade to pay last respects to the deceased Mayor Hickman, then on the 19th and 20th March the band were engaged to play at both days of the Ballarat Horticultural Society's Autumn Show. As part of this, in an interesting variation on contesting, a challenge contest had been due to take part on the 19th between Bulch's Model Band and St Joseph't Band. We shall never know which band would come out on top, as the Ballarat Star of that date explains. "Regarding the challenge given by Bulch's Band to St. Joseph's Band, no contest has yet been arranged. Representatives, of Bulch's Band were last night in attendance at the Buck's Head hotel awaiting Mr Harrison, of St. Joseph's Band, but the Tasmanian leader sent word that he was unable to be present. It is, therefore, thought that the competition will not take place. Tomorrow evening, at the Exhibition, St.Joseph's Band will compete against the Militia Band. A well-known Melbourne bandmaster has been appointed judge." Nonetheless Bulch's Model Band did provide selections of music at the show to fulfil their engagement. Later that month the band also provided several selections of music, over multiple nights from 30th March to the 2nd April, as part of the Australian Juvenile Industrial Exhibition.
In April, a band contest was held as pat of the Easter Monday Fire Brigade Demonstration in Benalla. The committee gave a cash prize of £30, to which valuable trophies were added by Sutton Bros, of Melbourne, and T Bulch. Three bands competed with Albury Band taking the prize and Benalla Band finishing as runner up. Then, on 17th April the band were requested to muster at the Fire Brigade Station to entertain at the Ballarat City Fire Brigade Anniversary Picnic.
28th April saw the band gather for their annual meeting once again, boosted in numbers despite challenging times. "The annual meeting of the Bulch's Model Band was held at the City Fire Brigade on Friday evening last, Mr M. Spear occupied the chair. The secretary reported the band to be in a sound financial position, and free of debt, they having just purchased a Besson 5 valve euphonium, at a cost of £l7 17s. The band now numbers 30 performers, and whilst old members are lost by removals from the district, new members are constantly joining. The election of officers for the ensuing year then took place, the following being duly elected:—President, J. N.Dunn, M.L.A.; vice-presidents, J. Kirton, M.L.A., E. Murphy, M.L.A., Mayor Shoppee, Captain Leggo, Mayor Gale, and T. Curnow; bandmaster, Mr T. E. Bulch; drum-major, Mr Geo. Bree; band-sergeant, Mr J. Thom; corporal, Mr T. Malthouse; secretary, Mr S. Jamieson; treasurer, Mr W. Apps; committee, Messrs J. Hodge, M. Spear, M. Williams, W. McNamara. Mr E. Ashley was proposed and duly elected a member of the band."
The same day saw announcements that the band would not only play a programme of music outside the Mechanic's Institute the following Friday, but also unite with Sebastopol Band, Prout's Band and the Militia Band for a benefit concert for a fellow bandsman who had been very ill for some time. On Sunday 17th May those two bands united on the Eastern Oval for a Sacred Instrumental Programme with admission being a silver coin as a collection at the gates, presumably contributing towards the fund; then on Friday 22nd May Bulch's Model Band played the "Dead March" at the funeral procession of Charles Leggo, who until his death had served as vice-president of the band as well as holding a number of other significant posts in the city such as the Wendouree Rowing Club and City Fire Brigade. His family owned the Leggo and Sons brewery in the city.
On 15th June 1891 the ever present Ballarat Star tells that "Mr J. W. Kirton, M.L.A., will address his constituents in the Academy of Music to-night. He will deal with the leading events of the last session, and also with the matters now occupying public attention. Accommodation will be provided for ladies in the dress circle. Bulch's Band has kindly volunteered to play selections prior to the opening of the meeting. The mayor of the city will preside." The eagle eyed among you will have spotted from the reports of minutes that the aforementioned Mr. Kirton is a vice president of Bulch's Model Band, but those not familiar with Australian administration, and specifically the administration of the state of Victoria may not know that the initials M.L.A. stand for member of the Legislative Assembly, the lower house of the Victorian parliament. It seems Thomas Bulch was quite adept at gaining the support and involvement of influential people to assure the success of his band. From everything we read, the band really was very much a success; and very much in demand This is what perhaps makes the next part of the story all the more surprising.
On Wednesday 1st of July 1891 the Ballarat Star reported on Thomas Bulch's proposed move to Melbourne "The many friends of Mr T. E. Bulch, musician and composer, will regret to hear of his proposed removal to Melbourne, he having entered into an engagement with Messrs Sutton Bros., music warehousemen of Elizabeth Street. Mr Bulch was in business in Ballarat for five years. Be was at one time bandmaster of the Allendale Brass Band, and afterwards bandmaster of the 3rd Regiment, and for the past five years has fulfilled the same position in the Model Band, having trained many of the players. His services as a judge at band contests were frequently sought, his later engagements in this capacity being at Maryborough, and at Bathurst, New South Wales. He is the editor and publisher of the "Australian Brass and Military Baud Journal." Under the able leadership of Mr Bulch the Model Band have distinguished themselves in various parts of the colony and also in Adelaide and other places. Before Mr Bulch leaves for Melbourne the members of the band will entertain him at a farewell social, at which he will be presented with a valuable testimonial."
The above article reveals something else about Thomas Bulch which was that by this point, having seen the potential and importance of brass band journals that we mentioned earlier in this narrative, he had established his own journal and become a publisher of music. We'll look into this in more depth later.
The band continued with engagements through till October. Following his leaving his post as bandmaster it appears that the band officials were keen to give appreciation for his contribution as this from the Ballarat Star of Friday 2nd Oct 1891 attests "Tonight the president of Bulch's Model Band, Mayor Dunn, will present the late Bandmaster Mr T. E Bulch with a handsomely framed group of photographs of the members and officers of the band. The presentation will be made at the Ballarat East Town Hall, at 9 o'clock, in the presence of the officers and members and the bandmasters of the other local bands."
As it transpired, however, Thomas was not able to attend the presentation; though the report of the event contains an excellent summarisation of his achievements, and reason for his standing, in Ballarat. "The members of Bulch's Model Band assembled at the Ballarat East Town Hall last evening, at the invitation of the mayor of the town, Mr J N Dunn, president of the band, to present a very handsome large sized picture containing photos of 36 past and present members of the band to Mr T. E. Bulch, who has so efficiently acted as their band master for the past five years. The picture is 5 feet x 3 feet 6 inches. The band, which was originally started with the object of playing at the Fire Brigades' Demonstrations, has been singularly successful under the leadership of Mr Bulch. During the first year of its inception the band succeeded in carrying off the second prize at the Melbourne Fire Brigades'Demonstration, valued at £23, and since that time has been awarded the following prizes, viz, Adelaide Exhibition, second prize, valued at £27 10s; Sydney Centennial Band Competition, second, valued at £6O; and the first prize at Maryborough, valued at £23. A number of bandmasters from other local bands attended to show their respect to Mr Bulch An apology was received from Mayor Shoppee. It was intended to perform in the Town Hall gardens the contest pieces to be placed at Maryborough, but owing to the unfavourable weather the arrangement had to be abandoned. The band, however, under the leadership of Mr Malthouse, played several pieces in the Town Hall. Afterwards, the mayor explained that a telegram had been received from Mr Bulch, stating that, owing to illness, he was unable to be present, much to bis disappointment, and that Mr G. King would accept the presentation on his behalf. The mayor then, on behalf of the band, in a humorous speech, made the presentation, and eulogised Mr Bulch, its founder, and spoke of the successes which the band had achieved. Mr Geo. King, on behalf of Mr Bulch, tendered his sincere thanks for the handsome presentation, which would be treasured by Mr Bulch and his wife and family. He hoped the same enthusiasm would be extended to the new bandmaster. Mr Murphy, M.L.A , and ex Mayor Gale and Cr. Peady were present. The mayor invited the band to partake of refreshments provided in the council chambers. The toasts of the bands represented were drunk, and responded to by Mr Gray, of the Militia Band, and Mr Front, of the Sebastopol Band. Several selections were given, and a very enjoyable evening spent."
Thomas Edward Bulch, the hard working and talented lad from the railway town of New Shildon in County Durham had truly been taken to the hearts of the people of Ballarat; and particularly the brass banding community. In musical terms he had made an enormous contribution to placing Ballarat firmly on the map. The bandsmen there, hence, were reluctant to lose his services entirely and elected to retain his services in some capacity as an occasional instructor to the band. How poetic though that his successor as bandmaster of Bulch's Model Band should be John Malthouse, the man who had persuaded Thomas Bulch to come to Australia in the first place, and whom had handed over the baton of his own Kingston and Allendale Brass Band to Thomas when he had, then, arrived.
As an incidental point, there are a couple of Thomas Edward Bulch related compositions from around the year 1891 that are worth highlighting here. 8th May 1891 was the day on which the city of Sandhurst in Australia officially changed its name to Bendigo. This new name was a corruption of the biblical middle name of the English boxing champion William Abednigo Thompson who ran the southern area of the city. The piece is described in an issue of the Lyons' Special List of Brass & Military Band Music of the day as "A fine march in 2-4 time with syncopated solos for basses, euphoniums, trombones &c. This march is respectfully dedicated to Mr. Jas. Northcott, Sandhurst, the oldest bandmaster in the colony. – 1s 6d". Northcott's band became Northcott's Bendigo Brass Band following the renaming of the city. The other composition I'd like to highlight here is not attributed to Thomas Bulch at all, but to Robert Malthouse the old Shildonian cornet player of Bulch's Model Brass Band. It is a piece called "Whitworth" which we believe is a march dedicated to the Australian journalist and playwright Robert Percy Whitworth, though there's no escaping the interesting fact that there is also a village of Whitworth only a few miles away from the town where both Thomas Bulch and Robert Malthouse grew up, the band from which competed and won in the contest of 1890 at which Thomas's march was a test piece. Robert Malthouse was not a prolific composer, this may have been his only work, and, as it was published in Buch's own brass band journal, it is suspected that Thomas Bulch most probably had a significant hand in its creation.
33. Samuel Lewins, Bandmaster of Bathurst
I'd said earlier in this narrative that we'd come back to Samuel Lewins and tie up what would otherwise be a loose thread in this story, and to do so now, as we've been recounting the year in which Thomas Bulch created a contest march for his old friend, would seem an appropriate time to do so.
Like Tom Bulch, Samuel started his Australian life in Ballarat, but unlike his younger friend he didn't stay there too long. In 1885 he moved to Bathurst where he took a job as a blacksmith for the local railway company. As there was no brass band in Bathurst at the time, and seeing the potential for one, he formed the Bathurst Railway Band, which would later become the Bathurst District Band.
Samuel appears to have made the band his life's passion for the next 50 years. In the document that commemorated his 50th year in charge of the band it states: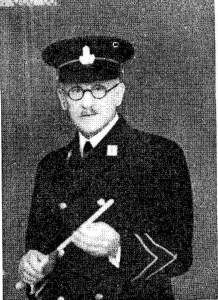 "In addition to his ability as a bandmaster and band-trainer, he has been a good business man having induced the members of the organisation and its different committees to maintain a first class band for 50 years. This has never been in debt, and has at all times been able to expend money for contests, and general upkeep, which undoubtedly was due to his leadership.
His life with the band has not been all "beer and skittles." He has been an indefatigable worker, and a man who always surmounted the greatest difficulties which no one nut an enthusiast would dare face. He has started bands, got them into a state of efficiency, and then has come a rift in the lute, followed by disorganisation necessitating a commencement all over again. Yet the genial and energetic Sam has come up smiling every time, and at present beats a telling time to as fine a band as anyone could wish to hear, members of which, with the citizens of Bathurst, are very proud. It is due to these wonderful and sterling qualities exercised over a period of 50 years that the public of Bathurst, both past and present, have come to treat him with such admiration and respect, and to such extent that there is probably no man in the district more loved and respected.
He is one of the fathers of bands and band contesting in Australia. the history shows his connections in this respect: the name of Lewins has come to be associated with band music in Bathurst until today it is almost a tradition. Generations of bandsmen have seen Mr. Lewins, bandmaster of the Bathurst District Band, conducting the fine combination of players, and hundreds of young players have passed through his hands, securing the benefit of his fine tuition. Mr Lewins did not forget his own family, and incidentally it might be mentioned that with sons, sons-in-law, and nephews, he could start another band today of 14 or 15 good players.
The Bathurst public has recognised in many ways his great worth as a bandsman and citizen, and on several occasions he has been the guest of the citizens at complimentary concerts, and smoke socials, and presented with handsome gifts in recognition of his successes in contests, and for his great work with the band and for Bathurst in general. Few local musicians are deserving of the same amount of gratitude from the citizens as is Mr. Lewins, whose unostentatious, but consistent efforts in the cause of music and charity have provoked the spontaneous expression of esteem which has endeared him to all. In conclusion we tender him our best thanks, and sincere appreciation for all the good work and services he has performed for this band during the 50 wonderful years. We sincerely hope that he will be spared for many more years life of pleasure with his old love, the Bathurst District Band."
The gifts presented to Samuel by the Mayor of Bathurst included a silver reading lamp and fountain pen from the bandsmen. There was also a token of appreciation from the Methodist choir. As an additional tribute to Samuel a set of commemorative bronze gates were to be erected in Machattie Park. These have since been re-sited but can still be seen today.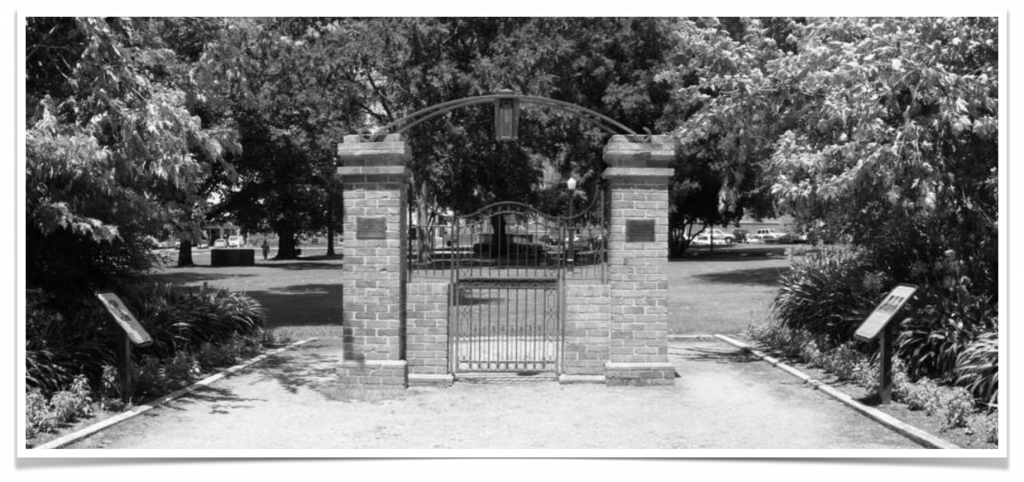 Samuel had married Elizabeth Jane Catley, a year or so after his arrival in Bathurst. Together they had six daughters and four sons. He worked as a fitter in the railway workshops in Bathurst.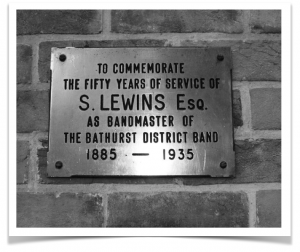 The band would play in the Bathurst courthouse gardens, and Samuel would ensure that the programme of music often included pieces by his old childhood friends Thomas Bulch and George Allan. Bulch even composed a march for Samuel's band, entitled Bathurst.It was created for the Bathurst Contest in 1891, at which Thomas officiated as judge. When Machattie Park in Bathurst in 1890 a rotunda was built for the band to perform upon. Sam Lewins led the band to win the Australian Championship three times before he retired from the band in 1935 after 53 years at the helm.
He passed away on the 23rd May 1940 aged 78, while his wife survived him by 6 years living to be 81. They were laid to rest together in Bathurst Cemetery. During his lifetime his home in Bathurst sported a sign over the front door that read "Shildon", something which has remained there to present times. A small reminder to him during his lifetime, and to all who passed by, of his roots.
Some years after his death, during the 1950s, an area of Bathurst once named Brilliant Street, which was part of an area that housed the city's railway workers, was renamed Lewins Street in his honour. Not bad overall for a humble lad from Shildon.
Whilst we are tying up 'loose threads' it would be wrong of me to move on without explaining what we know of James Scarffe, who also travelled to Australia with Thomas Bulch. As we mentioned, James worked for a time with Thomas at the Phoenix Foundry in Ballarat, and, according to Jack Greaves, and Bob Pattie, became the bandmaster of the Phoenix Foundry Brass Band for a terms of five years. Whilst at the Phoenix Foundry he was an active trade unionist and is reported as having been involved on the part of the workers of the Ironworker's Assistants Association in a dispute over wages in 1889. James was among the union representatives at a conference at the Ballarat City Hall on Friday 5th April 1889 that resulted in a lockout and shutdown of the foundry, creating tension with fellow workers not in agreement with the strike but losing wages on account of it. On 15th April the company had thrown out 500 workers over and above the 130 ironworkers' assistants that were striking when they suspended operations. The strike began to affect two other nearby foundries; the Union Foundry and Cowley's Foundry with pickets standing vigil at all three. During the dispute it seems a number of the married men with dependent families were keen to return to work blaming the stand-off over wages and conditions on the younger single men with less to lose from a prolonged closure. Eventually, the foundry did attempt to re-commence operations while the strike continued, though many of the other unions for the other trades at the plant, including the ironmoulders and boilermakers ordered their members to stand by the ironworker's assistants. The company attempted to bring in other labour, however it was clear that many of the alternative workers were not up to the job. Eventually new terms were offered to the workers who accepted at a conference and the strike was brought to a close on the 8th May 1889.
Bob Pattie, who has written a history of the City of Ballarat Brass Band, which originated as Bulch's Model Band, tells us that James Scarffe became bandmaster of the band for seventeen years. He was also bandmaster of the Nazareth House Band for two years, the Ararat Citizens Band for 2 years, Learmouth for 2 years and St Arnaud for 1 year. In addition he also acted as bandmasetr of the 3rd Battalion Militia for a time and had connections to George Herbert's HM Theatre and Leidertafel Orchestra.
In many ways this is a perfect illustration of one of the more beautiful aspects of the brass band movement. If you consider for a moment that Thomas Bulch, John Malthouse, Samuel Lewins and James Scarffe were all tutored by Francis Dinsdale and his son Edward; not to forget that George Allan also emerged from this stable. Then think about how many bandsmen these five bandmasters then went on to mentor, guide and tutor over the remainder of their own lifetimes; and then how many of those bandsmen they taught possibly also went on to pay forward their learning. In this way you can see that so many brass bandsmen today can trace a line of musical inheritance back to New Shildon, and to Francis Dinsdale and beyond to forebears of which we know nothing.
34. The Great Strike of 1892
We learned from the report of Thomas's resignation as bandmaster that, possibly on account of his music warehouse business struggling to recover from the fire in Ballarat, he had originally accepted a post with Sutton's Music in Melbourne. As a prolific composer of music, as full band arrangement, but also for piano and even violin, with an established track record for producing good quality work, Thomas was perceived to be a considerable asset to such a company. He had sold most of his Australian era pieces to be published up to this point to Suttons, or otherwise to Lyons, who were two of the established Australian music houses of the era. Lyons were the producers of the "Intercolonial Brass and Military Band Journal" in which many of Thomas's compositions appeared. Thomas had also been able to demonstrate his capabilities as an arranger of music originally created by others for different instrumentation into the brass band format. We mentioned before that this had created some confusion over the pseudonyms that he may or may not have used, but it also mean that up to this point, and in the years ahead, he would often go uncredited for much of the work that he undertook. His grandson Eric recalls conversations between Thomas's son and son-in-law (Eric's father) Charles Tomkins explaining that Thomas was often prevailed upon to tidy up someone else's composition; with that party receiving the credit. Overall, it is hard, therefore, to ever get a true appreciation of the true scale of his output.
On moving to Melbourne, Thomas quickly established himself as bandmaster of a new 'operatic' brass band. Thus, on 14th May 1881 another brass band contest took place at Maryborough at which two bands, bearing Bulch's name, competed. Bulch's Model Brass Band of Ballarat, consisting of 30 players, and Bulch's Operatic band of Melbourne with 20 players. The contest was held at the Prince's Park and other competing bands were Donald Band, 14 performers; Creswick Jubilee Band, 20 performers; Collins street Melbourne Baptist Church Band, 20 performers; Bowenvale Band, 19 performers. There were also four entries for euphonium, and three for cornet solo competitions. The scoring was as follows. Bulch's Operatic Band, Melbourne came first in the contest with 58 points; Bulch's Model Band, Ballarat, 48 points, second; Collins street Baptist, 46 points, third. As demonstrated by winning this contest, Thomas had clearly got his new band off to a flying start.
On 25th November Thomas provided his services, not as bandmaster, but as pianist, at a concert at the Town Hall in Melbourne that featured the North Melbourne Military Band and included a number of songs with piano accompaniment.
By the beginning of 1892 Bulch's Operatic Brass Band were referred to as Bulch's Prahran Operatic Brass Band after the district of Prahran in Melbourne. they began the year on New Year's Day with a selection of music at the Friendly Societies Gardens under the auspices of the Grand United Order of Free Gardeners in the locality. Ever confident in his own music the programme featured five of Bulch's own compositions.
On 5th March, the band, billed as Bulch's Champion Amateur Operatic Band, presumably on account of the contest win at Maryborough, gave a performance of pieces at a 'monster demonstration' of the unemployed at Studley Park, north of the Prahran district, at which a collection was held. In advertising the band were labelled as the 'coming band of Australia'. Despite this prediction of greatness for the band there are relatively few reports of appearances of the band throughout the year. Bulch's Model Brass Band, however, now under the baton of new bandmaster James Scarffe, continued to be very much in demand.
Back in New Shildon 1892 also seems to have been a quiet year for George Allan's New Shildon Saxhorn Band, with no publicly reported appearances in concert or contest. There may have been good reasons for this, which may have been linked to one of the darkest, and most disruptive, events in the industrial history of County Durham, the 'Great Strike' of 1892.
In that year the coal owners of the Durham coalfield, driven by what they believed to be economic necessity, proposed a significant reduction in the wages for coal miners. For the Durham Miner's Association, this was their moment. They had formed when the miners of the various collieries and pits across the county had agreed that strength in protecting their rights would be found through unity, and the perceived injustice of this wage cut was seen as an appropriate trigger to demonstrate this strength. They had made a stand in the past, such as in the strike of 1879. The only solution was to put up a fight again. The nation needed coal, and especially Durham's coal. The previous year Durham's coalfield had contributed 30 million tons toward the 185 million tons produced nationally. The mine owner's refusal to back down would cost them dear.
As the coal owners refused to relent on their intention to cut wages, it seemed as though industrial action was inevitable. With the strike seeming inevitable Ponies and gear began to be withdrawn from the mines from the Friday previous to the planned date of action. The deadlock remained unbroken. Commencing on the 14th March 1892, this was to prove to be the largest strike by coal mine workers in the heyday of coal mining in the North East of England. To call it a strike is something of an oversimplification. This was more a stand off between miners and mine owners in which at the commencement the whole workforce of the Durham coalfield was locked out from the mines, pits and collieries.
On the 18th March 10,000 miners from collieries not associated to the Durham Miners Association also joined the strike. Almost all of the 92,588 miners of the county joined the strike. Unlike in later cases, perhaps in living memory, where there was greater unity between the coal miners of different geographical regions, in 1892 the coal miners of the Durham Mining Association made their stand alone. Coal continued to be produced in other parts of the nation.
So how would this affect George Allan in New Shildon; he wasn't a coal miner?
As almost always happens with industrial action, yet is often forgotten, the impact of the strike extended beyond the miners to other parts of the community and particularly the network of workplaces that exist to support that industry, or which depend upon it. The North Eastern Railway, George's employers, fell into both those categories and were expected at the outset of the strike to bear significant losses. Almost all the coal from across the county was, of course, transported by rail with NER employees required to shunt and transport the coal. However, even the locomotives themselves required coal to function. The forges of the blacksmith's workshop at the Shildon works, where George fulfilled his long shifts, also required fuel. Trimmers, teamers, shunters and batterymen were 'thrown idle' by the dispute. Management at the New Shildon works announced that the working week there was to be cut back from six days to only four. Naturally the workforce would only be paid for the days they worked. The wagon builders were lucky, those involved in the transport of coal were laid off.
The effects of the coal mining dispute reached out like tentacles to touch upon the other major employers of men in the North-East. Manufacturing of steel and ironworking was also dependent upon a supply of coal. By the 21st March only 11 of the 40 furnaces of Cleveland were operable, with the rest in danger of shut down. Ironstone miners producing raw materials for the furnaces were also laid off. Quarries producing limestone for blast furnaces ground to a halt as demand dried up. Owners of coke ovens made the difficult decision to shut them down, risking damage to the fabric of the ovens themselves as they cooled. On the Tyne, by the end of March, 200 steamships stood idle for want of coal for fuel, or for want of cargo. The miner's federation agreed with the Coal Porter's Union that they should not handle foreign coal lest that undermine the position of the Durham Miners. In addition, the newspapers of the time explain that water was supplied to many colliery villages by the colliery enginemen so water shortages were encountered.
The protracted stalemate between owners and workers caused many to re-evaluate their circumstances. This situation was particular only to County Durham. How long would it last? Nobody was certain other than that in those days there was no welfare state upon which to lean for support. When your existence is relatively mean and your wage little more than subsistence even a handful of weeks would bring hunger and potentially drive desperate acts. What there was, however, was work elsewhere. Newspapers reported that unmarried young men were left the towns and villages of Durham in droves to seek paid work in Wales or other areas unaffected by the strike. The Northern Echo at the end of March stated that "Never since the great strike of '79 – yet even then – have the colliery villages been so quite as at the present time. The pulley wheels at the pits are rarely seen to move: the locomotive engines that were only a few weeks ago kept constantly on the move hauling in and out of the sidings full and empty wagons are at a standstill; and the long stretches of coke ovens that used to illuminate the scene by their lurid fires have ceased to burn. So far as I can learn not a man belonging to the four associations (Miners, Enginemen, Mechnics and Cokemakers) is working and now that the men have been paid off, the only persons seen about the pits are a few officials and the village constable."
Many, of course, remained. Among these especially those for whom uprooting and relocating was not such a straightforward endeavour, such as those with elderly relatives to care for and large families. For these it was a difficult time only partly relieved by the strength and support of close knit communities. Even the farmers would feel the pinch. At Bishop Auckland market mid-strike much of the produce such as butter and eggs went unsold; families not having the money to buy the goods. Soup kitchens were operated by community organisations and friendly societies to keep those most in need fed.
For George Allan, and the other bandmasters across the county this would lead to a loss of band membership; a challenge that we will later see that he continued to find a challenge throughout the remainder of that decade. The dispute lasted eleven weeks and three days in total, though there continued to be an aftershock economically.
The dispute was finally settled through intervention and mediation from an unlikely source. Bishop of Durham after a series of conciliatory interventions held a congress at Auckland Castle on 1st June 1892 at which the representatives of the miners agreed to an only slightly lesser reduction in wages; 10 percent rather than the 15 percent originally proposed. In many ways the Durham Miners Association had failed to protect the needs of their members as well as had been hoped; and overall the population of the county had endured much hardship as a consequence of their attempt.
By the end of summer, some normality had resumed and the annual Shildon Show went ahead, with a brass band contest included in the day's schedule of entertainments. The New Shildon Saxhorn Band did not take part, though the New Shildon Temperance Band used this event as an opportunity to return to contesting having not done so since 1883. Earlier in the year, the band had advertised their intention to hold a brass band contest on Easter Monday, 18th April 1892, in Shildon, but there is no record of the contest ever having taken place. It is probable that as the date fell in the midst of the miners strike it may have been deemed impractical for the Easter contest to go ahead. Let's not forget that many bands in those days were funded by industries, many of them related in some way to the coal industry. The contest at Shildon Show, however, did proceed and on this occasion, the adjudicator, Joseph Owen Shepherd, of Liverpool, determined that their rendering of Harry Round's arrangement of works by Mozart was the least proficient of the performances from the six band that had entered. Nonetheless, unlike George's Saxhorn Band they were back in contesting action and though they didn't know it on that day it was to be the beginning of a golden period for that band.
We do, at least, know though that the new Shildon Saxhorn Band were active in 1892. The 1890s was the decade of a great bicycle craze in Britain, and Old Shildon was fortunate enough to have its own cycling club with a cycling ground. Though bicycles were nothing new the craze had started with the invention of the 'safety cycle'; a bicycle with a chain drive and gearing. This cycling ground was situated on Dean Street on what is now the site of Shildon Association Football Club's ground. On Saturday the 13th August that club, which had been established in 1887, held its sixth annual Cycling Festival featuring a number of races including a mile novice handicap, mile race, 100 yards flat race and two-mile race. George's New Shildon Saxhorn Band had been engaged to provide entertainment for the afternoon, and, in spite of some inclement weather initially, they did just that.
Elsewhere, the vicinity around George's home at 2 Pears Terrace still sounds like it was in development. The local development board were seeking to improve the streets around Pears Terrace up to a particular standard to be adopted for ongoing maintenance. In the Northern Echo of 16 November tells of a meeting of the Shildon Local Board "The Surveyor reported that Fryer Street was now completed in a satisfactory manner and that he had served notices on the owners in Back Alma Road West, Pears Terrace and end of East Street, with a view to these streets being put into a proper state and afterwards being taken over by the Board." On the 5th December, the same newspaper reported that "Shildon and East Thickley Local Board. – The local board invite tenders for the levelling and Macadamising channelling &c. of (1) Back Alma Road West, and (2) Street behind Pears Terrace and end of East Street. Plans &c. may be seen and full particulars obtained on application to the Surveyor, Wm. A. Mason, Local Board Offices, Shildon." Then the Northern Echo of 21 Dec 1892 tells of a meeting of the Shildon Local Board. "Tenders had been received for the making of Pears Terrace and the end of East Street, New Shildon – that of Mr John Moore for £142 15s 4d being accepted."
Despite all the noise and disruption, George was able to find enough peaceful moments between his working hours to step up his composing activity. New compositions appearing around this time include the galop "Runaway" and the lancers composition "Social". In this year George also restarts his membership of the Mechanics Institute. It is also the year that his younger brother James married Elizabeth Jane Donkin and moves into his own home at 14 Scott Street, close to Pears Terrace.
35. The Melbourne G.P.O. Military Band Years Begin
Over in Melbourne, Australia, Thomas may well have been feeling that his new job there, combined with his role with the Prahran Operatic Brass Band, were not enough to keep him either fully occupied, or else sufficiently well paid. It is during this year that he was offered, and accepted, the post of bandmaster to the Melbourne G.P.O. Military Band. Naturally having accepted this role he also wanted to make his mark on the band by adding a number of his own compositions to their repertoire; that the military band format included additional instrumentation did not daunt him in the slightest.
How Thomas Bulch came to be invited to be bandmaster of the post office military band is uncertain, but we do know that he was conveniently located to do so. The impressive General Post Office building where the organisation, and its band, were headquartered, was situated on Bourke Street just where it meets with Elizabeth Street. The design of the building had been established in a competition in 1858 with separate designers being responsible for the exterior and the interior. It took almost seven years to build, and was further extended in 1887.
What was most convenient for Thomas was that the G.P.O. building was diagonally opposite Sutton's Music Warehouse on that junction between Bourke Street and Elizabeth Street. Eric told me that the band would play on the steps of the G.P.O. Building every Friday night, which at the time was the late shopping night. He also recalls from family stories that Thomas would watch the postmen setting off from the post office on a morning on their bicycles and then returning again when their deliveries were complete.
By October 0f 1892, Thomas had the Melbourne G.P.O. Military band operating under his baton and the first existing report of his conducting them was captured in the Melbourne Herald of the previous day, Tues 25th October. "The G.P.O. Military Band will play a grand programme of instrumental music under Bandmaster Bulch, in the new Victoria Pavilion, Esplanade (Beach) South Melbourne, to-morrow (Wednesday) evening, at 8 o'clock."
He had not abandoned his Operatic Brass Band project, however. A further report from the same newspaper of 25th November shows that on occasion he might take the opportunity to have both his bands play at the same engagement. "The General Post Office Military Band and Bulch's Operatic Band will give an open-air performance in the new Victoria Pavilion, on the South Melbourne Esplanade at 8 o'clock this evening."
Generally, though, the press continued to include many stories of Bulch's Model Brass Band, of which he was no longer in control. This could have been quite bitter-sweet for Thomas as it was the band he created so successfully, and which bore his name, yet was no longer under his baton. In addition to this, we do see an increase in mentions of bands playing pieces written by Bulch, or his noms de plume Godfrey Parker and Henry Laski. Thomas appears to have created the persona of Henry Laski in 1892, which is also the year that we start to see the pieces "Myrine" and "Adelina", inspired by Bulch family members, being reported as being played. It might have been that being employed to compose professionally in Melbourne was the trigger for having to generate these alter-egos.
We might well wonder why Thomas Bulch chose the name Henry Laski? On the whole, it's quite an unusual name and there's no obvious Bulch related word-play within it. However, it may be worth noting of Melbourne in 1892 that there was a Henry Laski resident there, and for a brief moment in June of that year he was somewhat notorious. A report in The Age of Melbourne on 15th June concerning how that gentleman, a dairyman of Mahoney Street, had been caught diluting his milk by 15% and fined £4 with added costs of £2 and 2 shillings. Might it just be the case that Thomas Edward Bulch, in seeking inspiration through which he might dilute the appearance of his own name on new pieces of music, happened across that story and chose Henry's as his own additional name? Again this is just a guess but it does seem to be a tantalising coincidence.
What we see beginning around 1892, though is that sometimes almost the whole of a programme of music performed by a band might be entirely drawn from the three composers, Bulch, Parker and Laski. For example this programme by the Wagga Town Band in This doubtless a result of these bands subscribing to the Intercolonial Brass Band Journal in which Thomas published and distributed his compositions.
36. Dawn of the Intercolonial Brass Band News
1893 was another big year for Thomas Bulch. On 3rd March his Operatic Band gave part of the programme for a varied concert at the Exhibition Hall in association with the Fitzroy Football Club comprising a waltz, and an overture composed by Harry Round entitled "Knight Templar". Interestingly if you mention that title to any bandsman today it's not Harry Round's overture they will instantly recall, but George Allan's world-famous march of the same name.
By early March Thomas had added yet another band the portfolio of bands under his wing. The Mercury and Weekly Courier of 9th March 1893 reports as follows. "BRASS BAND FOR COLLINGWOOD. A MEETING was held at Campbell's Engineer's Arms Hotel, Johnston Street, Collingwood, on Wednesday last for the purpose of forming a brass band in Collingwood; Mr Bostock was in the chair. An apology was received from Mr Keele, his absence being caused through visiting Geelong on fire board business. It was carried unanimously that the band be called The Collingwood Operatic Band, and under the conductorship of Mr T. E. Bulch. The election of office-bearers was as follows:- President, Cr. Keele; vice presidents, Crs. Beazley, Wilkins, and Kreitmayer; committee, Messrs. Swan, Walker, Woolcock, and S. Gibson, (Foy and Gibson); treasurer, Mr Bostock; trustees, Messrs. Morrish and Prout." The district of Collingwood wasn't too far from Prahran, being northeast of that district and close to the centre of Melbourne. Thomas had the band, which presumably was comprised of experienced players, possibly even bolstered by members of his Prahran Band, in shape and ready to perform in no time at all. The same newspaper dated 23rd March of that year tells us that "The newly formed brass band of Collingwood, played their first programme of music before a large assembly of the public at Studley Park, on Sunday last. under the able conductorship of Mr T. E. Bulch. About twenty members took part in the performance, which was well received and highly appreciated by all present." Thomas was determined to achieve a full complement of players and advertised locally for additional bandsmen. "TO BANDSMEN. – Wanted, PLAYERS for all Instruments for the Collingwood Operatic Brass Band; also. Beginners that will be taught thoroughly. Practice on Monday evenings at Birmingham Arras Hotel, Smith Street, Collingwood. Bandmaster, T. E. BULCH." With Thomas's name being at the top of much of the popular music already being played by Australian brass bands and appearing in the press, constantly, in association with his former band in Ballarat, Thomas had surely become one of the most recognisable names in banding in Australia. What currency to have. Surely making clear that he was now the bandmaster of Collingwood ought to be enough to ensure significant interest.
Furthermore, Thomas appears to have left the service of Suttons Music Warehouse and struck out again on his own, no doubt ably assisted by his wife Eliza, at a new music store at 73 Bourke Street East, from where he was advertising that they were "the cheapest house in the city for violins, accordions, brass and orchestral band instruments." He was also advertising the latest issue of his, now entitled, Intercolonial Band Journal as being in stock on the 1st April. It seems that Thomas was happiest when working for himself and had used the job offered to him by Suttons as the springboard to relaunch his own shop, this time in the larger city of Melbourne. Naturally, he continued to compose, to keep the pages of his journal full, in what time remained in between being bandmaster and running the store.
You would expect that this would be enough to keep even the most capable musician occupied to the point of workload proving almost unsustainable. Soon, though, he would take on even more as we shall see. On the 4th April 1893, a number of newspapers in New Zealand report that for the next contest of the Brass Band Association of New Zealand, rather than use a contest composition by Charles Godfrey the committee agreed to use one test piece from Wright and Round's catalogue and one supplied by Thomas Bulch. This, bearing in mind that Charles Godfrey had been Thomas's first judge at the contest with the New Shildon Temperance Band in Newcastle, would have been an interesting decision to the Australian bandmaster. Furthermore, it appears that in making that decision the Association had taken into account correspondence from a number of providers of music from Australasia and from England that had included a letter from New Shildon's original bandmaster Robert De Lacy, publisher of the London Brass Band Journal. The committee of the Association wrote to Thomas and Wright and Round requesting their submission of a test piece.
At a meeting of the Association on the 26th June, the representative of Wellington Garrison Band suggested to the contest committee that they write to Thomas Bulch to request that he act as a judge at the forthcoming contest. This was declined. Then on the 5th July, the Secretary of that band wrote to the Evening Post of Wellington outlining the reasons for this recommendation as being that as Thomas Bulch had been entrusted to provide a test piece there would be no better-placed bandmaster to be able to interpret how the test piece should be played. The argument continues a week later in the New Zealand Mail with another writer arguing for Thomas's engagement. "NEW ZEALAND BANDS ASSOCIATION. TO THE EDITOR. Sir,—The above association has thought fit to reject the suggestion of the local Garrison Band anent the appointment of Mr T. E. Bulch, the Victorian bandmaster, as adjudicator at the next band contest to be held in this Colony. Considering that a more able judge than Mr Bulch cannot be found in the Australasian Colonies having gleaned his experience in the North of England, where crack bands exist — and that the gentleman named is entrusted with the arrangement of the test selection, we think his rejection unwise on the part of the Bands Association. As the secretary of the local band says, 'Mr Bulch would be highly competent to judge his own arrangement,' and, having a full score, would more readily detect mistakes or omissions by the various ' mouthpieces,' when they occurred. Mr Buloh, it is said, has a wide knowledge of military band instrumentation, and has achieved great praise for his spirited quick-steps, the minor parts of which bandsmen speak of as interesting, artistically arranged, and full, while the test pieces arranged by him, although not written for virtuosi, are, nevertheless, brimful of awkward readings — such as broken time and chromatic runs, &c, calling forth all the musical talent of the executants for the creditable rendering of the whole. Mr Bulch, it is further stated, conduits all com tests on the system adopted in the Old Country, and never judges—not even a quick step— without a fully written score to guide him in his judgment. His notes are comprehensive and instructive, his decisions never questioned, and bands can ever rely that the best band will win.—l am, &c,"
Thomas created the selection "Roberto Il Diavolo" for the contest, based upon the work by Meyerbeer. The arrangement was, as the press described it, "calculated to test the powers of the performers to the utmost" while the Otago Daily Times commented it "will be found a much severer test than the other test selection provided by Mr H. Round from Verdi's works. The piece abounds, with difficulties that the best of the bands will have to work hard and well to overcome. Solos are provided for most instruments, but the only one of particular note is that allotted to the cornet. There is a fine duo cadenza for cornet and euphonium; 'and the basses have plenty of good work. As a matter of fact, we do not think that, with "Verdi" also to work up, the bands—or the majority of them at any rate —have sufficient time to properly prepare Mr Bulch's fine selection. It may be noted as a remarkable omission that the arranger has not appended the metronome marks, and, unless conductors are tolerably familiar with the opera, there is likely to be a wide divergence of opinion displayed as to the tempos."
The contest went ahead in November of 1893, with a Mr G. A. Martin of Wanganui acting as the adjudicator, and the contest was won by the Invercargill Garrison Band. But this episode is a tremendous example of the esteem in which Thomas was held and the degree to which he had built up his reputation by this point.
On 2nd May 1893 Thomas's G.P.O. Military Band submitted a programme of music as part of a "concert and dramatic entertainment" as part of a fundraiser for the Telegraph Clerical Cricket Club at the Hibernian Hall, Swanston Street, which was reported in the Melbourne Punch.
Then in July 1893, Thomas partnered with two associates, David Hannah and a Frenchman by the name of C. Foret, to start an additional venture. A regular brass band newspaper, which they entitled The Intercolonial Orchestral and Brass Band News. It was an ambitious move as, for once, it was a venture Thomas had no experience of. An account of Thomas's contribution to Australian banding from 1916 describes the venture. "Bulch published music, but he did more: he began the publication of a band paper, and it was in this connection that he displayed an amount of confidence in his journalistic ability, that had no-support in facts. Whatever merit he had as a writer of music it was soon plain that he had little as a compiler or dispenser of news. Luckily he did not embark on his newspaper publishing enterprise on his own. He had partners, David Hannah and C Foret. Hannah knew just about as much about newspapers as Bulch did. But Foret, who was a compositor, had the practical part of the business, and was the bulwark of the new firm. "The Intercolonial Brass Band News" was the imposing title of the new venture. I have said that neither Bulch nor Hannah were cut out for newspaper work. Yet both men did much towards successfully launching the paper: Bulch because of his reputation among bandsmen, and Hannah because of his ability to push sales. Hannah was for years associated with Fitzgerald's Circus, playing solo cornet in conjunction with Von der Mehden. With the circus, he travelled from end to end of Australia and through New Zealand and Tasmania as well. And wherever Dave went the merits of the "Intercolonial Brass Band News" were heralded. But the infant publication, though vigorous, required more nursing than either Bulch or Hannah were prepared to give it. The result was that these two "got out" leaving the venture in the hands of Foret (pronounced for-a), a volatile little Frenchman, who was brave enough to take up the load alone. The paper first came out as the "Intercolonial Orchestral and Brass Band News", not as the "Intercolonial Brass Band News" which was a later name given to it by Mons. Foret."
By taking this account in we are reading ahead a little in our story, but it's worth understanding how bold a venture this was, and that Thomas was prepared to take risks to further his ambitions. Being in control of such a publication would offer Thomas Bulch the perfect vehicle in which to enhance not only the banding community of Australia, as well as his own reputation, which as the article explains was already sufficient to ensure some measure of success in launching the newspaper. Thomas would later compose a contest march entitled IBBN, using the initial letters of Intercolonial Brass Band News, in recognition of the paper's connection with band contesting.
The Traralgon Record of 8th August 1893 reviews the second issue of the paper and offers a product description. "Musical.– We have received the second number of the "International Orchestral and Brass Band News," and though this, which is, by the way, the only musical paper printed in Australia, was first issued in July last, it has been greatly improved in the meantime. This paper is to be published on the first of each month. Its size is about that of the "Australasian," and consists of eight pages of reading matter. Its principal object appears to be to keep a record of the doings of the various bands in this and the other colonies, and the journal will, therefore, be found of great service to bandsmen, especially as with each issue is given a solo with variations suitable for any brass instrument. The paper also contains much matter of interest to any who study the art of music, and we therefore wish the proprietors every success in their venture. Mr D. H. Hannah with Messrs. Foret and Bulch, are the proprietors of the journal, and any of Mr Hannah's friends in this district can obtain all information from him by writing to his address, Frankston."
While much of this was going on, Thomas's wife, Eliza, had been pregnant and eventually gave birth to another daughter that the couple named Alice Bertha Bulch. With running bands, a store, a brass journal and now a newspaper, as well as composing reams of music for brass and piano, it's reasonable to suspect that Thomas would have little time free to assist Eliza in the raising of another infant, nor Eliza time to aid in the running of the store. The Bulch household must have been incredibly busy.
As the year drew to a close Thomas entered his G.P.O. Military Band into a band contest that was to take place on New Year's day at the Carnival Sports at which a minimum of five bands were required for the contest to go ahead. When the deadline was reached only four had entered so the deadline was extended to the 20th December. In the meantime the future of that contest hung in the balance.
37. Entering the Shadow of William Holdsworth
1893 was also a significant year for George Allan. For one thing, it was in this year that a new publication back in Britain was founded. It would be one that would go on to feature many of George Allan's compositions in the latter part of the nineteenth century.
The Cornet was a regular brass publication started by Fred Richardson of Sibsey, Boston, Lincolnshire. According to his obituary in 1932 Fred had started his life in very humble circumstances and worked his way up, having been originally employed in the 'coal trade'. He was reportedly always interested in band music, but prior to becoming a publisher of music Fred and Robert Richardson used to run prizes competitions in the newspapers of the day. One example of this is mentioned in the Thetford and Watton Times and Weekly People's Journal of 17th May 1890 which proclaims, "Prize competition (No. 4) – £5, £3, £2, £1, 10s, 10s, 10s, 10s, to those counting most correctly the letter 'T' in verses only, of first four chapters of GENESIS (old edition). Fee 1s, P.O. or 13 stamps and stamped envelope. Closes June 4th, result June 11th. Ties divide and £2 extra will be given for the first correct. F Richardson, Sibsey, Boston." Fred was also interested in motor cars. The invention of the internal combustion engine and its subsequent development in the 1870s and 1880s created communities of enthusiasts across the country. Fred Richardson, being such an enthusiast, found himself occupying a post as the first secretary and treasurer of the South Lincolnshire Automobile Club. Of his personality we are told that he was greatly esteemed by the people of Sibsey, who were acquainted with his genial disposition.
Whether Fred Richardson had any experience of the brass banding community other than just appreciating the music is unclear, but, as with Thomas Bulch in Australia, he saw an opportunity and took it. According to brass historian and academic Roy Newsome, the publication followed a format similar to that used by Wright and Round for their publications. By adopting this winning formula The Cornet would also prove to be very successful. As Thomas Bulch had discovered, to be adopted by the brass community it helped to contribute prizes to brass contests, so, on behalf of The Cornet, Fred would contribute prizes such as medals to be awarded to the best soloists at contests.
Returning to George in person, though by 1893 he was not yet at the peak of his creativity as a composer, he was certainly developing that side of his abilities. This was the year in which we see his fantasia "The Royal Festival" first mentioned. It had been published by Fred Richardson in the Cornet brass journal, and from the timing we ascertain it to be a tribute to the wedding of the Queen's son, the Duke of York to Princess May of Teck which took place on 6th July 1893. May of Teck had previously been engaged to the Duke of York's older brother, who had died the previous year. In the build-up to the event, the newspapers, nationally and locally, were awash with news on the preparations. The couple were married in the chapel at St James's Palace by the Archbishop of Canterbury, and the day was declared a fete day nationally. Interestingly the first reference we see of the piece being performed is in the Evening News of Sydney of 19th September where the performing band are the New South Wales Tramway Band, and the programme also included a piece by Thomas Bulch; just one of many examples where the two composers were reunited, if only on a band programme.
Also, we see that in 1893 he brought his New Shildon Saxhorn Band back to the contesting scene in this year and enjoyed some success. They entered a contest on Saturday the 9th September at Belmont. The Jarrow Express outlines the results on 15th September. "A band contest, in connection with the Pelton Fell Prize Band, was held on Saturday, for which 20 bands entered, and of these 18 competed. The first prize in a quickstep competition was carried off by New Shildon; 2, Murton Colliery; 3, Hebburn Colliery; 4, West Pelton. Test piece conductor George Raine, 1st and special prize for best euphonium solo, New Shildon, George Allan, 2; Hebburn Colliery, 3; West Pelton, Thomas Wood, 4." Across the two categories, the New Shildon Saxhorn Band under George Allan had taken one first place prize and another second place prize. The adjudicator was Joseph Gaggs, a renowned brass conductor and band contest judge of the day who four years previous had been engaged in a similar capacity by the New Shildon Temperance Band for their April contest. If it's correct that there were eighteen bands competing then for a band absent from the contesting scene for so long this is quite a significant achievement. The test piece on the day was "Sweet Harmonies"
George's efforts to improve the New Shildon Saxhorn Band do not seem to have gone unappreciated by the membership. On Saturday 2nd December the bandsman came together and as the Durham County Advertiser reported six days later, "The Members of the New Shildon Saxhorn Band met on Saturday at the Black Bull Inn to present a silver mounted baton, with a suitable inscription, to Mr George Allan, their bandmaster. The baton was supplied by Hogget and Sons, Darlington. In the absence of Dr R W Smeddle, who was detained through his professional duties, the presentation was made by Mr James Robinson, the oldest member of the band. – Mr Allan responded in suitable terms."
The Black Bull Inn, now demolished for some decades, once stood at the corner where Adelaide Street meets what is now the bottom of Byerley Road opposite the site of the old railway wagon works. We understand that the Saxhorn Band would rehearse and meet there. As a public house, representative of all that the Temperance movement stood against, it is doubtful that the location had equivalent significance for the New Shildon Temperance Band.
You would think that a good contest result such as this would have re-elevated George's New Shildon Saxhorn Band, however, the New Shildon Temperance Band worked hard throughout 1893 to ensure their supremacy as the best brass band in town. They too returned to the brass contesting scene in 1893, with a passion. Whether they were able to do so through financial support from subscribers, donors or patronage of the industries of the town, the Temperance Band made a significant change to the way they operated in this period; they hired in the services of an external conductor.
Why they elected to seek a conductor from out of town isn't explained anywhere, but it wasn't uncommon for bands aiming to add their reputation to the list of 'crack bands' of the day. Affordable rail travel made it easy to get from town to town across the region. The person they elected to engage was William Holdsworth. He, rather like Robert De Lacy, the original conductor and bandmaster of the Saxhorn Band, was a professional conductor who would travel to wherever he was needed throughout the North of England. He appears to have started his conducting career in around 1887, and by the time he was engaged by the New Shildon Temperance Band had already had considerable success with the Brighouse and Rastrick Temperance Band, Wyke Old Band, and the West Hartlepool Operatic Band, conducting that latter to several prestigious placings at contest in the years 1990 to 1993.
With the contest conducting form that he had when he was first engaged by the New Shildon Temperance ahead of their return to the brass band contest scene in the spring of 1893, he would have been a most appealing candidate. The price to be paid, over and above his fees, though, would be that New Shildon Temperance would never hold exclusivity over his services at any point in time. Like any professional conductor, Holdsworth would follow the money and would take on as much work as might ensure a good living. This proved no deterrent to the members and committee of the Temperance Band and they began a relationship that would last right through to the turn of the century, and generate a shadow of success from under which the older New Shildon Saxhorn Band, with their comparative limitations financial, or otherwise, would never fully emerge.
William Holdsworth was born in Cleckheaton, almost equidistant from Leeds, Bradford and Huddersfield on the 18th June 1861. His father was employed as a wire drawer. His childhood and any education he received was brief and humble. Before he was 9 years, like many children of his generation, he was working a brickyard labourer alongside his older brother. Growing up around Wyke in Yorkshire it was most probably as a member of the Wyke Old band that he learned the art of brass music. We can see no evidence of his having received a formal education, yet by 1891 when he was 29 years of age we can see that in the census of that year he declares his occupation as being a 'Professor of Music', with his own home at 3 Carr Row, Wyke, which indicates some transformation in status. He and his wife Ruth grew a large family and eventually moved to base themselves in Armley near Leeds. Holdsworth had a similarity to Thomas Bulch in that he had a reputation for being able to both play the cornet and conduct the band.
In a conducting career spanning around 27 years, up until 1914, William Holdsworth is known to have conducted as many as 66 brass bands, from Yorkshire, Northumberland and County Durham, at brass band contests. 33 of these being in the eight years that he was also working with New Shildon Temperance. However, during that time, many of these bands enjoyed significant contest success under his baton, and in 1893 New Shildon Temperance got off to a flying start coming first place in May at Castle Eden, again in July at West Hartlepool and yet again in August at Witton Park. In addition, the band were placed second at contests in Blackhill and Greatham and picked up a third at the Frosterley contest. Holdsworth's successes would be published, as became the customer of many bandmasters of the time wishing to show off their prowess and success, occasionally in the Brass Band News; there could be no doubt that he was gifted sufficiently as a conductor to bring the best forth from a group of bandsmen.
This would undoubtedly create difficulty for George Allan and his Saxhorn Band. Surely if a bandsman in the town was of a certain degree of talent, and prepared to sign up to the Temperance pledge, then it would be hard to resist the urge to exchange the uniform of the Saxhorn Band for that of the Temperance Band should the opportunity of a vacant seat arise. Furthermore, surely the Temperance cause would be delighted to see another townsman reject the evils of alcoholic drink.