NEW: Footage from our first concert – "Craigielee" and "Kitchener's Army"
We've finally been able to edit some of the footage that we collected at the first Wizard and Typhoon 'exploratory' concert at Ushaw College on Sat 4th August. So we've chosen to put one or two of the key pieces here on our homepage. The rest will be added to the website soon. One of the pieces is the fantastic T. E. Bulch march "Craigielee" which was a part inspiration for "Waltzing Matilda", the unofficial Australian anthem. You can really hear the similarity. The other, which we added especially to commemorate the centenary of the end of WWI is "Kitchener's Army".
A 'Great Hunt', to Find More Missing Compositions, has Begun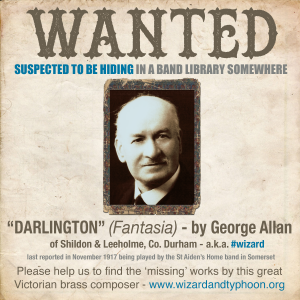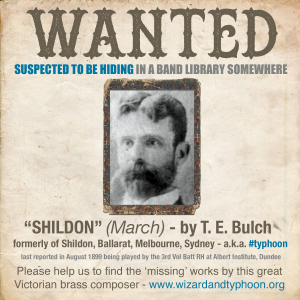 We got to hear the first selection of pieces from our collection at Ushaw College, Durham, on Saturday 4th August 2018. It was absolutely brilliant.
Thank you so much to everyone who attended. We'll be adding some great new content from that event to this site soon.
Now though the researching and searching resumes as we attempt to track down more of the compositions and arrangements that are key to understanding George Allan and Thomas Edward Bulch. So, with this in mind we'll be launching a 'Great Hunt' to see if we can find more missing pieces with the help of brass bands around the banding community. If you can help please do get in touch.
————————————————————————
To follow our latest discoveries – READ OUR BLOG
To read a short account of George Allan – READ ABOUT GEORGE: 'The Wizard'
To read a short account of Thomas Bulch – READ ABOUT THOMAS: 'The Typhoon'
To hear their music go to our – AUDIO COLLECTION
If you want snippets on progress as they occur – OUR TWITTER FEED
Our mission: here is to gather, and share, as much as we can about the lives, and work, of these two remarkable Victorians (and in the case of T. E. Bulch that term applies in more than one sense) for the benefit of the people of the community from which they emerged, for the brass band fraternity as a whole, and for those who love a great story stuffed to the gills with coincidence, tragedy, triumph and magnificent music, some of which you can hear right here.