We've Launched a 2019 Event Funding Appeal to Bring The G Allan and T E Bulch Story Home.
Now that we've invested so much time into painstaking research we really want to share what we've rediscovered about George Allan and Thomas Edward Bulch. We want to do this in Shildon and in County Durham, but also in a way that we can share with whoever is interested wherever you may be. This will involve a grand concert, but we're hoping to make it much more than that (though we can't say too much just yet). We are looking to funding bodies to help, of course, but we also need a little public support. This film explains what we're aiming for. So we have set up a GoFundMe page that explains how YOU can help us – either by donating or sharing. Please help us get the word out and BRING THE GEORGE ALLAN and THOMAS BULCH STORY HOME.
Find out more right here
————————————————————————
Check out our latest Blog Post
We maintain a Blog on the site setting out anything significant we've been learning about in understanding the lives of George Allan and T. E Bulch. In our latest post, added in January 2019, entitled Minutes, Manuscript and Munitions, we look at how both Bulch and Allan chose to have work they published themselves printed by the best print houses in Germany, why, and what effect that had in the long run.
————————————————————————
Looking for a brass fix? – Try "The Music of George Allan" on CD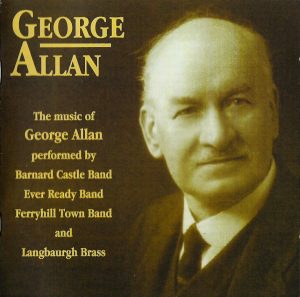 We're happy to tell you that we've been able to get this terrific CD of marches by George Allan re-pressed so that the music can be heard by even more people. The CD features the Ever Ready Band, Barnard Castle Band, Langbaurgh Brass and Ferryhill Town Band and includes 13 of George's best works: "The Wizard", "Imperioso", "Impetus", "Shawville", "Lefebvre", "Battle Abbey", "Raby", "Diomed", "Bravura", Jupiter", The Diplomat", "Knight Templar", "Senator".
What's great about this is that every purchase of this CD (priced at £10) will help contribute to our research and promotion of George Allan and T E Bulch, so we can remind the world of their incredible story. Get your copy HERE
————————————————————————
A 'Great Hunt', to Find More Missing Compositions, has Begun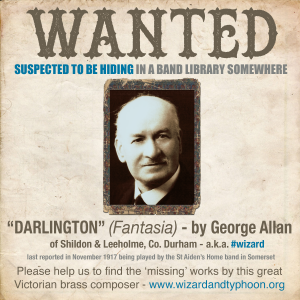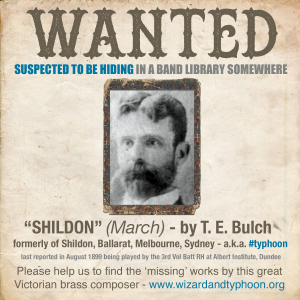 We got to hear the first selection of pieces from our collection at Ushaw College, Durham, on Saturday 4th August 2018. It was absolutely brilliant
Thank you so much to everyone who attended. We'll be adding some great new content from that event to this site soon.
Now though, the researching and searching resumes as we attempt to track down more of the compositions and arrangements that are key to understanding George Allan and Thomas Edward Bulch. So, with this in mind, we'll be launching a 'Great Hunt' to see if we can find more missing pieces with the help of brass bands around the banding community. If you can help please do get in touch.
————————————————————————
To follow our latest discoveries – READ OUR BLOG
To read a short account of George Allan – READ ABOUT GEORGE: 'The Wizard'
To read a short account of Thomas Bulch – READ ABOUT THOMAS: 'The Typhoon'
To hear their music go to our – AUDIO COLLECTION
If you want snippets on progress as they occur – OUR TWITTER FEED
————————————————————————
Our mission: here is to gather, and share, as much as we can about the lives, and work, of these two remarkable Victorians (and in the case of T. E. Bulch that term applies in more than one sense) for the benefit of the people of the community from which they emerged, for the brass band fraternity as a whole, and for those who love a great story stuffed to the gills with coincidence, tragedy, triumph and magnificent music, some of which you can hear right here.
————————————————————————
About Us
The Friends of the Wizard and Typhoon, formed in 2018, are a group of individuals united by a common goal to rediscover, preserving and retell the stories of, and promote the music of, the brass band composers and legendary bandmasters, Thomas Edward Bulch and George Allan.
Why these two gentlemen alone? Well, whilst it's true that there have been a great many bandmasters and composers of brass music, what binds these two together is the unusual fact that they were born just fifteen months apart only a couple of streets away from each other in the young railway town of New Shildon. These days their respective legacies have sadly become a distant and vague memory despite the incredible things they achieved on a truly global stage. We'd like very much to change that.
Throughout the lifetime of this group we propose to execute a number of related projects to:
1 – Rediscover, and retell, the stories of the two composers
2 – Collect the music they composed
3 – Seek opportunities for the community to hear the music performed
4 – Preserve a record of the stories and music
5 – Create a lasting legacy in a way that will benefit, and perhaps inspire, the people of Shildon, of the North East of England and the brass banding fraternity and fans of brass music everywhere
Group members include bandsmen, former bandsmen, and non-bandsmen. We welcome anyone who would care to join us on this journey and who is happy to share in our goals and ambitions. If you'd be interested contact us using contact@wizardandtyphoon.org
Current officers of the Group
Hon. Patrons: – Mr. Eric Stanley Tomkins (grandson of Thomas E Bulch), Mr. Richard Evans
Chair: – Mr. Daniel Childs
Secretary: – Mr. Dave Reynolds
Treasurer: – Ms. Kelly Ambrosini