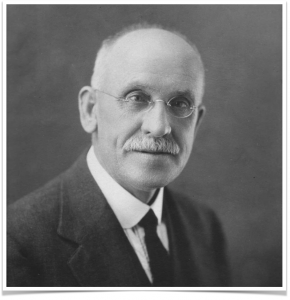 Once again I thought it important to deviate briefly from the story of Thomas Edward Bulch and George Allan to tell a little about another of their New Shildon born contemporaries who, whilst not becoming a composer and hence not equalling Bulch and Allan in terms of influence on the brass community, nonetheless went on to create an enduring impression down-under.
Samuel Lewins was born in New Shildon on 30th December 1861. Those keen eyed among you will have spotted something familiar about that date, and you'd be correct if you pointed it out that it's the same day of the year on which Thomas Edward Bulch was born, making Samuel exactly one year older than Thomas.
Mary Ann, whose original surname was Tinkler, had first married one Christopher Appleby, a labourer, on the 7th August 1848 whilst living in Darlington and for a time had lodged with his family on Silver Street in that town. Christopher, however passed away in the spring of 1855. The couple had one son, James, born in 1853, who was Samuel's older half-brother.
At some point before the 1861 census she had married William Lewins, another Darlington man 23 years her elder, who was a messenger at the engine works not far from where the family now lived at Mechanic's Street, New Shildon. The couple had two sons; John, born around 1859 and Samuel at the very end of 1861. Mary Ann's first son, James, adopted his step father's surname.
In the ten years between the 1861 and the 1871 censuses William Lewins passed away leaving Mary Ann as the head of the household, now at East Street. As well as having her three sons at home, the eldest of which had become a coppersmith, Mary Ann took in lodgers, presumably to help make ends meet and aid her income as an office cleaner.
Young Samuel, being born in New Shildon, would have grown up learning at the same school as the young Thomas Bulch and George Allan and probably through being in the same circle of lads found himself in the town's juvenile band (the feeder band for the New Shildon Saxhorn Band), receiving a musical education from Bulch's uncle, Edward Dinsdale. The origin of this musical training was clearly explained in a documented tribute to Sam later in his life.
By 1881 the family had moved to 34 Simpson Street (which ran parallel to Adelaide Street where the Bulch and Dinsdale, and for a time, Allan family were resident). Mary Ann still took in a lodger, but her two older sons had moved out and only Samuel remained at home. By this time he was a blacksmith at the North Eastern Railway wagon works just like Bulch and Allan who probably were taken on in that same role after Samuel.
You might expect that at the age of 52, and living as a widow, that Mary Ann Lewin's days of marriage were behind her. However on the 28th May 1882 she married again; this time to a William Baines, who became Samuel's new stepfather. She would stay as Mary Ann Baines until her death in New Shildon at the end of 1897.
When Edward Dinsdale formed his breakaway New Shildon Temperance Band, as a rival outfit to his father's Saxhorn Band, Samuel Lewins and Thomas Bulch were among the founder members. He initially selected to play the trombone, which he stuck with for several years. When Thomas Bulch took over from his uncle as bandmaster of the Temperance Band, he suggested Samuel switch to euphonium, the instrument with which Samuel stuck for that band's contesting career.
In 1884, following contact from a former New Shildon resident, John Malthouse, enticing the young bandsmen out to Australia, Samuel committed to emigration along with Thomas Edward Bulch and fellow bandsmen James Scarffe and Joseph Garbutt. It's thought that the local community rallied around to raise money to pay for the lads passage to Australia, and, in a measure of how well they were respected, the local press of the time claimed that between two and three thousand townspeople attended at Shildon railway station to see them off.
After a rail journey to London, the group boarded the 'Gulf of Venice' for what was to prove to be a somewhat unpleasant journey to Port Adelaide. The trip took considerably longer than scheduled, owing to the ship losing propellor blades en-route and thus being unable to make quite as much headway as normal. Reportedly the lads would rehearse on deck providing the passengers with some entertainment to brighten the journey.
Like Tom Bulch, Samuel started his Australian life in Ballarat, but unlike his younger friend he didn't stay there too long. In 1885 he moved to Bathurst. As there was no brass band in Bathurst at the time, and seeing the potential for one, he formed the Bathurst Railway Band, which would later become the Bathurst District Band.
Samuel appears to have made the band his life's passion for the next 50 years. In the document that commemorated his 50th year in charge of the band it states: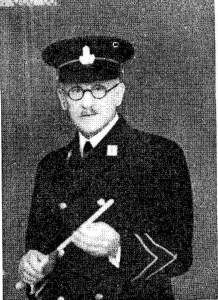 "In addition to his ability as a bandmaster and band-trainer, he has been a good business man having induced the members of the organisation and its different committees to maintain a first class band for 50 years. This has never been in debt, and has at all times been able to expend money for contests, and general upkeep, which undoubtedly was due to his leadership.
His life with the band has not been all "beer and skittles." He has been an indefatigable worker, and a man who always surmounted the greatest difficulties which no one nut an enthusiast would dare face. He has started bands, got them into a state of efficiency, and then has come a rift in the lute, followed by disorganisation necessitating a commencement all over again. Yet the genial and energetic Sam has come up smiling every time, and at present beats a telling time to as fine a band as anyone could wish to hear, members of which, with the citizens of Bathurst, are very proud. It is due to these wonderful and sterling qualities exercised over a period of 50 years that the public of Bathurst, both past and present, have come to treat him with such admiration and respect, and to such extent that there is probably no man in the district more loved and respected.
He is one of the fathers of bands and band contesting in Australia. the history shows his connections in this respect: the name of Lewins has come to be associated with band music in Bathurst until today it is almost a tradition. Generations of bandsmen have seen Mr. Lewins, bandmaster of the Bathurst District Band, conducting the fine combination of players, and hundreds of young players have passed through his hands, securing the benefit of his fine tuition. Mr Lewins did not forget his own family, and incidentally it might be mentioned that with sons, sons-in-law, and nephews, he could start another band today of 14 or 15 good players.
The Bathurst public has recognised in many ways his great worth as a bandsman and citizen, and on several occasions he has been the guest of the citizens at complimentary concerts, and smoke socials, and presented with handsome gifts in recognition of his successes in contests, and for his great work with the band and for Bathurst in general. Few local musicians are deserving of the same amount of gratitude from the citizens as is Mr. Lewins, whose unostentatious, but consistent efforts in the cause of music and charity have provoked the spontaneous expression of esteem which has endeared him to all. In conclusion we tender him our best thanks, and sincere appreciation for all the good work and services he has performed for this band during the 50 wonderful years. We sincerely hope that he will be spared for many more years life of pleasure with his old love, the Bathurst District Band."  
The gifts presented to Samuel by the Mayor of Bathurst included a silver reading lamp and fountain pen from the bandsmen. There was also a token of appreciation from the Methodist choir. As an additional tribute to Samuel a set of commemorative bronze gates were to be erected in Machattie Park. These have since been re-sited but can still be seen today.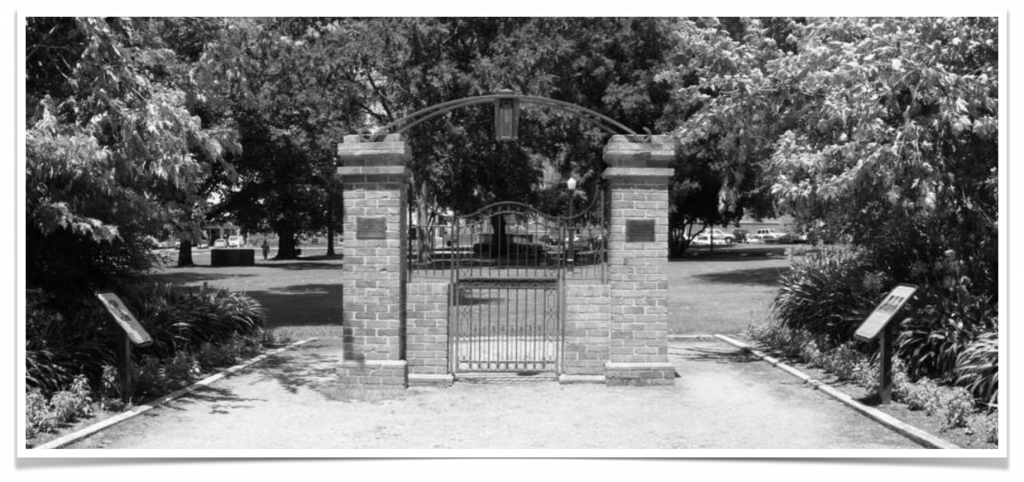 Samuel had married Elizabeth Jane Catley, a year or so after his arrival in Bathurst. Together they had six daughters and four sons. He worked as a fitter in the railway workshops in Bathurst.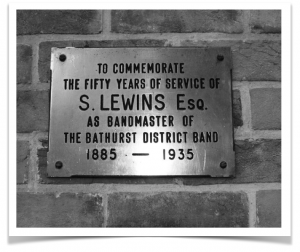 The band would play in the Bathurst courthouse gardens, and Samuel would ensure that the programme of music often included pieces by his old childhood friends Thomas Bulch and George Allan. Bulch even composed a march for Samuel's band, entitled Bathurst.It was created for the Bathurst Contest in 1891, at which Thomas officiated as judge. When Machattie Park in Bathurst in 1890 a rotunda was built for the band to perform upon. Sam Lewins led the band to win the Australian Championship three times before he retired from the band in 1935 after 53 years at the helm.
He passed away on the 23rd May 1940 aged 78, while his wife survived him by 6 years living to be 81. They were laid to rest together in Bathurst Cemetery. During his lifetime his home in Bathurst sported a sign over the front door that read "Shildon", something which has remained there to present times. A small reminder to him during his lifetime, and to all who passed by, of his roots.
There's a great deal more to be said about Samuel I am certain, but that could be a whole other project.
Some years after his death, during the 1950s, an area of Bathurst once named Brilliant Street, which was part of an area that housed the city's railway workers, was renamed Lewins Street in his honour. Not bad overall for a humble lad from Shildon.