What's this? Two posts in one day you say.
Just happens to be a rather bountiful day and this is another research discovery I couldn't let go without documenting.
As you'll know if you have been following the Long Story, Thomas Bulch didn't leave Shildon alone for Australia. He had three travelling companions with him, all fellow bandsmen.
Along the way I have found much about Sam Lewins who left Tom Bulch's company quite quickly to take up an opportunity in Bathurst, and John Malthouse, the bandsman who persuaded Bulch to leave for Australia. And of these, I have also up to now seen photographs enabling me to picture them when I read about them. There was another bandsman who travelled with them named Joseph Garbutt, but I have found little at all about him.
However, this particular discovery concerns James Scarff, of whom I had seen no pictures until today. Whilst documenting the year 1921 I have happened upon an article in the Herald of Melbourne dated 15th October 1921.
The article is a concise retrospective, of a type that was popular in the banding community, where a writer would write of the achievements of a respected member of the banding community, outlining his journey to becoming a source of admiration among bandsmen.
George Allan was summarised in such a way in an issue of The Cornet of 1896, though that was perhaps more of a 'bandsman's introduction' to the then promising composer and hopeful contest judge. Of James Scarff, however, I had supposed that the pinnacle of his achievement had been taking over from Tom Bulch for a while as conductor of Bulch's Model Band as it transitioned to become the City of Ballarat Band.
It seems there was more to him than this. What's lovely about this particular resumé is that it is accompanied by a photograph, albeit a rather dark and grainy one, allowing us, almost a century later, to put a face to the name of this one time Shildonian.
Here's what the writer, under the typically anonymous nom-de-plume of Quickstep, has to say.
"AN INTERESTING CAREER. Mr James Scarff of the Malvern Tramway Champion Band is distinctly a link with the past, and the story of his band life makes interesting reading to present-day bandsmen."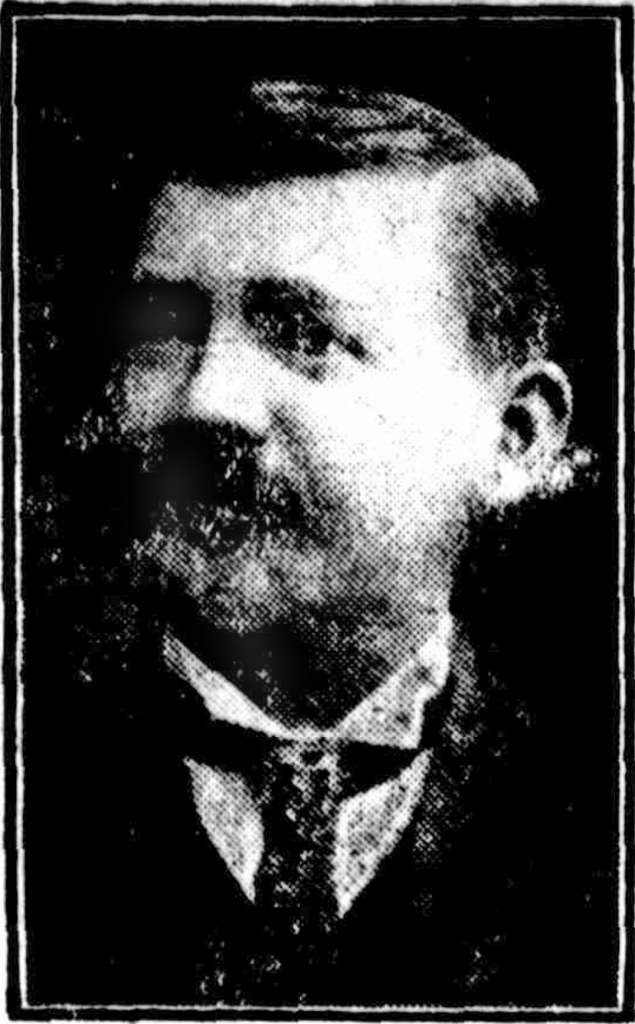 "James Scarff was born at Shildon, Durhamshire, England, on October 31, 1863. When 11 years of age he became a member of the New Shildon Temperance Band, playing tenor horn, subsequently transferring to the B-flat cornet. His musical companions were S Lewins, who later became the solo euphonium player, and T E Bulch who shared the position of principal cornet with Mr Scarff, and later succeeded his uncle – Mr Edward Dinsdale – as bandmaster. The band competed at a number of contests with a fair measure of success."
"Early in 1884, Mr Scarff and his companions, who were all of a similar age, decided to leave for Australia, and they arrived here in May of the same year. The adventurous trio settled in the Allandale district, Mr Bulch being appointed bandmaster of the Allandale and Kingston Brass Band, Mr Scarff ably assisting him as principal cornet. After a brief stay with the band, Mr Lewins proceeded to new South Wales, where he formed the Bathurst District Band in November 1885, and has since acted continuously as its conductor. Mr Scarff's fine cornet playing attracted the attention of Mr J B Gray, the conductor of the Phoenix Foundry Band, Ballarat, who invited him to accept the position of principal cornet to his band. Mr Scarff remained with the band for five years, and he also served for six years with the 3rd Infantry Battalion, under Mr Gray's conductorship."
"Mr Bulch made his headquarters in Ballarat, where he formed Bulch's Model Brass Band – a very fine combination. Mr Scarff became associated with this band, which later became known as the City of Ballarat Brass Band. Upon Mr Bulch's departure from the district, Mr Scarff was appointed to the conductorship, and this position he held for the next 17 years."
"In 1915, Mr Scarff enlisted in the Australian Imperial Force and he was appointed to the conductorship of the Ballarat Camp Band, with the rank of band-sergeant. Subsequently, he had charge of, and was a playing member of, various other military bands, being demobilised in December 1918." Early in the following year he joined the Malvern Tramway Band, of which organisation he is the official collector, and where his services and advice are greatly valued."
"Mr Scarff has also been successful in the writing of band scores and selections. The leading bands of Australia and New Zealand entrust their most important work to him. Mr Scarff also held the conductorship of the Ararat Citizens band for more than two years. he was also bandmaster of the Nazareth House Band for two and a half years and the Learmouth Brass Band for two years."
"As a member of the Ballarat Liedertafel, he was associated with the production of many important musical works. He was also the principal cornetist with Her Majesty's Theatre (Ballarat) and Mr George Herbert's Orchestras."
It's absolutely terrific to be able to tidy up a few loose ends with regard to the life of James Scarff, and not only that but to see him